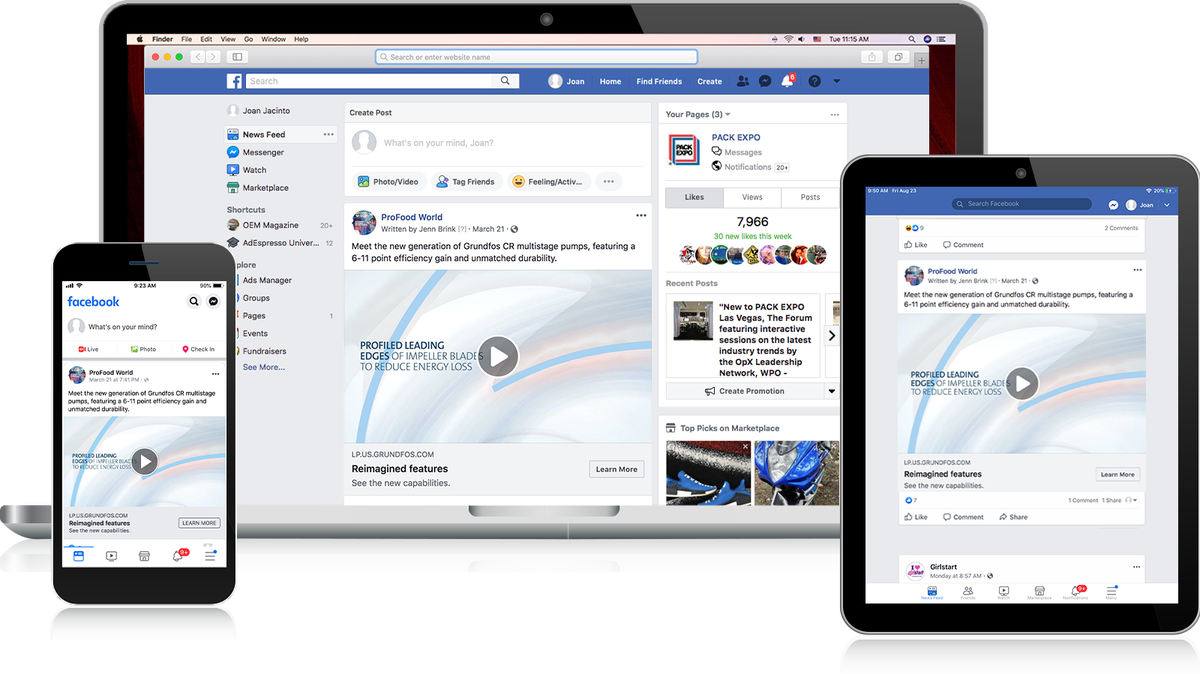 Facebook Traffic Driving Post: Targets a pre-selected query of PMMI contacts on their personal Facebook feed and drives traffic to your intended website.
Audience: Choose your custom audience from the PMMI database by segments such as Industry, Job Title, Self-Reported Buying Interest, Existing Plant Operations. Please see the full report of audience selects here: https://pan.pmmimediagroup.com/#/
Your Ad will appear on the personal Facebook Account* of the targeted contacts.
Campaign is designed to drive traffic to your intended URL when the contact clicks on your ad.
Campaign KPIs are historically strong. Engagement of PMMI database contacts matched to Facebook's database contacts results in high click-through rates. Ask your sales rep for details.
Deliverable: Facebook Post which includes your Image, Headline and Designated URL; ad may be updated with video rather than static post; ask your sales rep for details.
Timeframe: 5-7 day campaign period
*Your campaign will run across all Meta channels – Facebook and Instagram.
---
Please submit the items indicated below. Materials are due 7 days before the start date of your campaign.
** Please provide a minimum of 3 full sets of creative. We can accept up to 4 sets.
Image - File Type .jpg or .png; Resolution 1080x1080; Ratio 1:1 OR Resolution 1200xx628; Ratio 1.91:1

Avoid images with text (text must compose less than 20% of the image)

Optimize attention with simple composition, bold color and appropriate cropping.

Convey relevance

Logo/branding needs to be visible

Message - should include no more than 125 characters (including spaces) (B)

Headline - should be no more than 25 characters (C)

Link Description - No more than 30 characters (D)

Landing Page URL
**Our specs for text word count are strict so that we can accommodate all Facebook placements, whether it's in the main feed on desktop or in a mobile banner.
*Youtube Links are not allowed