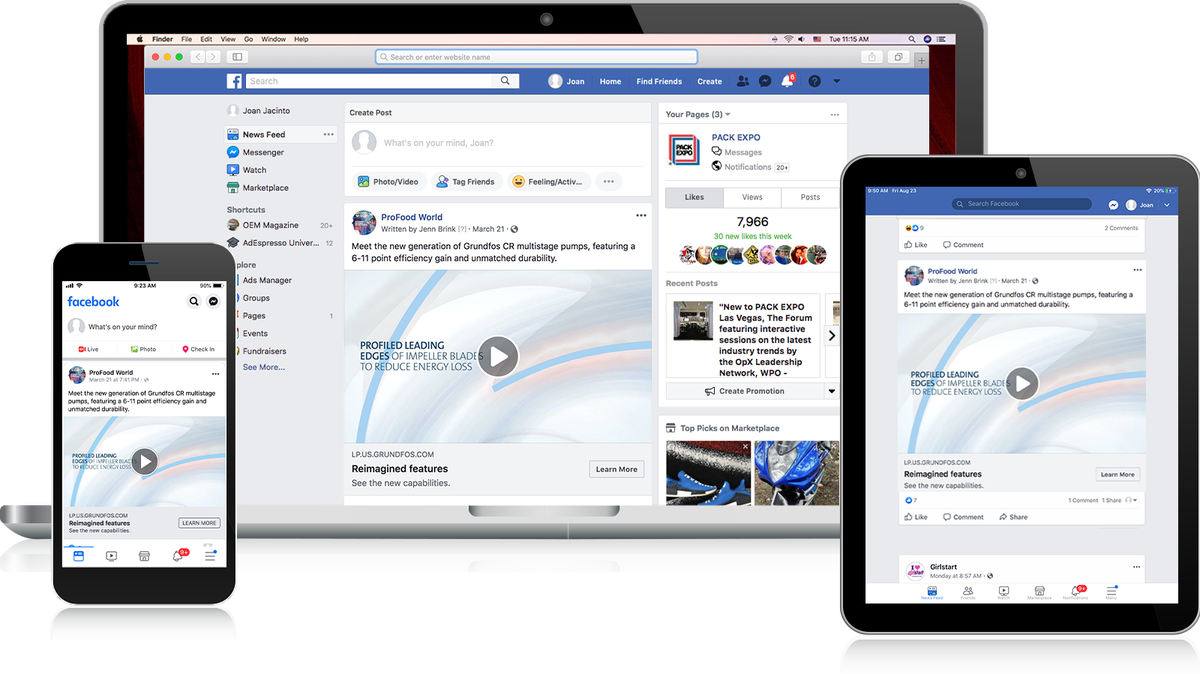 Looking to drive traffic to your website? Target a specific audience segment from our database on Facebook.
Facebook is the single-highest direct performing channel we have

Facebook's cost per click is also 4 times lower than the cost per click on LinkedIn and generates better results.
Total campaign management
We will manage the campaign for you from start to finish including campaign reporting showing impressions and clickthrough rate.
Campaigns generally run 5-7 days

Campaigns always start on Fridays, to get that initial weekend boost

Leads provided for likes/comments/shares

Purchase as a stand-alone product or as part of a multi-touch package
Remember, the people you are reaching on Facebook are not necessarily the same people you are reaching via email. Using multiple channels is an effective way to broaden your reach.
Facebook is set up to automatically serve around viewing behaviors of the audience to get best response.
16+ placements, including mobile and desktop news feeds, Facebook stories, Instagram feed and stories, feeds within Facebook groups, Marketplace placements, etc.

We encourage you to not limit to a single placement (ex. right rail)

For example, if the audience tends to be heavy Instagram users, then you just lost a lot of opportunity to reach them.

We want to be responsive to the way the recipient is engaging with media in that moment
We've got your privacy concerns covered
We're not using Facebook's data, websites you visit, income info, etc. to target. All the targeting is done on our end with legitimately obtained data.
Separate your personal feelings about Facebook from its effectiveness as a marketing channel. The facts show that the people you want to reach are clicking on Facebook.
---
Please submit the items indicated below. Materials are due 7 days before the start date of your campaign.
Image - File Type .jpg or .png; Resolution 1080x1080; Ratio 1.91:1 to 1:1 (A)

Avoid images with text (text must compose less than 20% of the image)

Optimize attention with simple composition, bold color and appropriate cropping.

Convey relevance

Logo/branding needs to be visible

Message - should include no more than 125 characters (including spaces) (B)

Headline - should be no more than 25 characters (C)

Link Description - No more than 30 characters (D)

Landing Page URL
**Our specs for text word count are strict so that we can accommodate all Facebook placements, whether it's in the main feed on desktop or in a mobile banner.