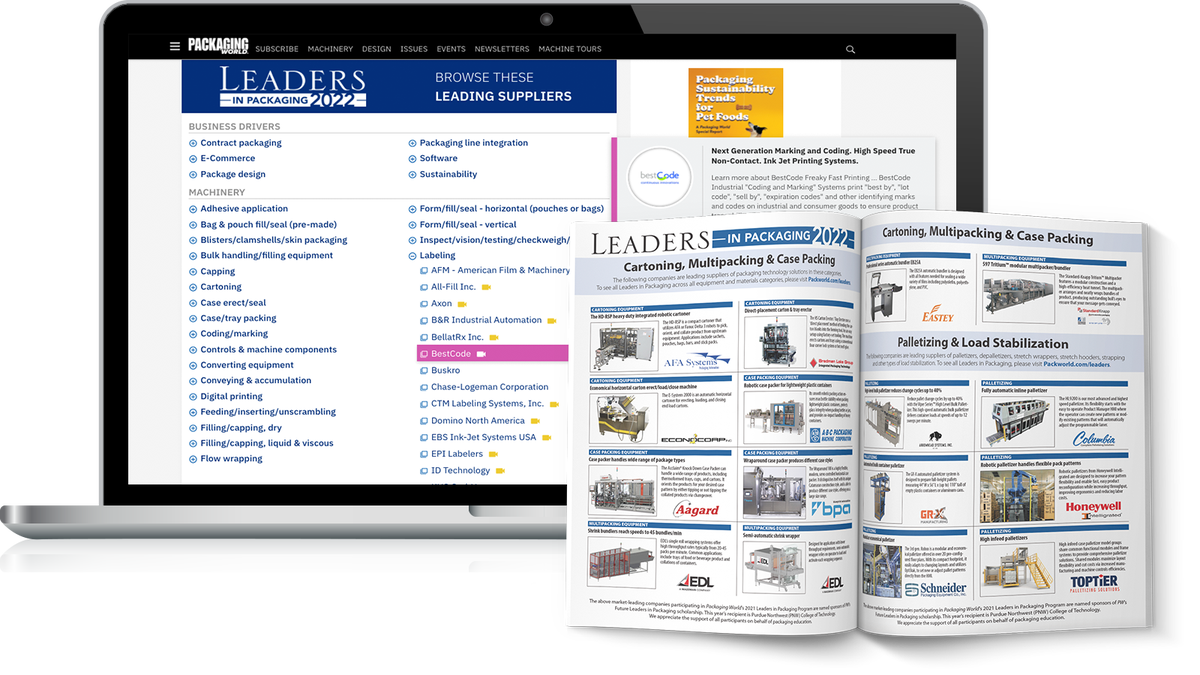 Get in front of your best prospects, year-round, when you are a Leaders in Packaging participant.
Multi-channel, year-round package includes:
Contextually triggered listing on all article pages associated with your category(ies)
Leaders in Packaging profile on packworld.com
2023 Buyer's Guide print profile and product ad(s) in the December issue
Up to 3 print ads
---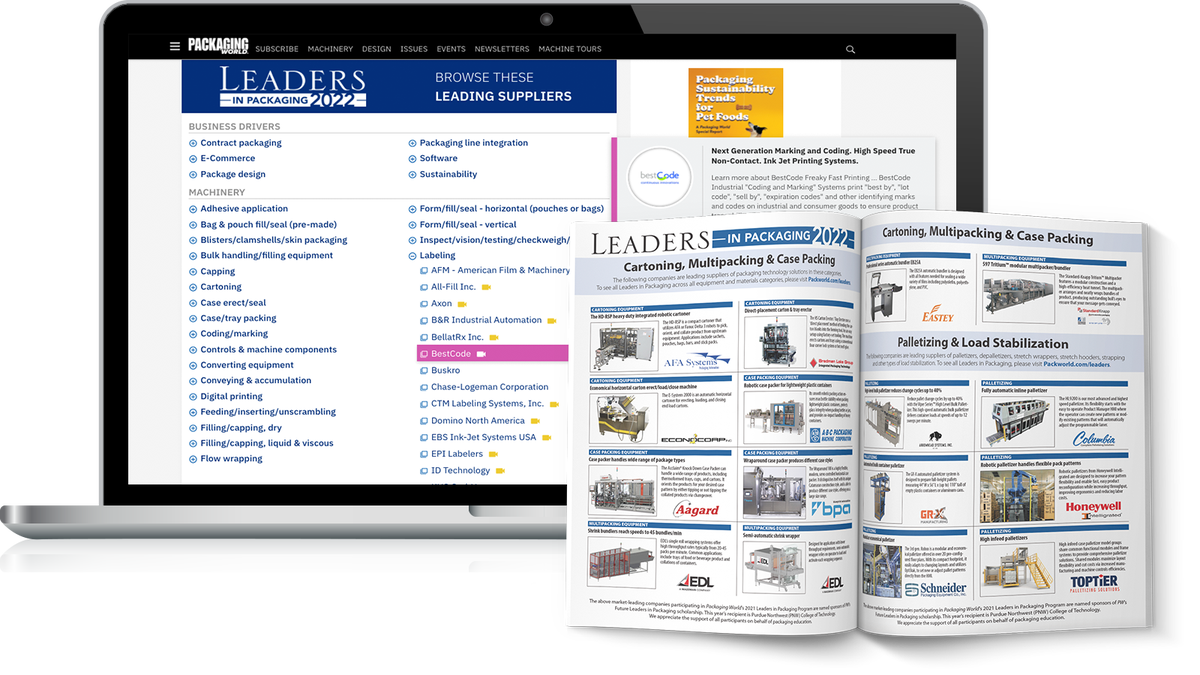 Comprehensive year-round print and digital exposure to the Packaging World audience
Bonus Offerings:
Contextually triggered listings

All articles in your category(ies) will prominently feature your company (and data card) in the LIP box. Your company displays even when the article is about a competitor

Enhanced editorial engagement report

Real-time reporting of your digital profile's views and clicks, plus category activity.
Digital profile includes lead-gen form.
To get max value out of your digital profile, get profile materials in by January 20th (when profiles go live).

Enhanced Converge features

The ability to export your data
The ability to share specific company location data

Retargeted ad impressions

Banner ads served on brand-safe, 3rd party sites to anyone who visits PackWorld.com.
Pro Bundle: Up to 10k impressions
Premium Bundle: Up to 20k impressions
Campaign length is up to six months when materials are submitted prior to April 1st.
Any materials turned in after April 1st, 2024 are not guaranteed to reach the number of impressions listed. All campaigns end on August 31st, regardless of start date.

YouTube Amplify

YouTube widget embedded right in your pop-up data card
All articles on your company will feature a widget with your YouTube channel
Your YouTube videos flow right onto your online profile page on our site
Always self-updating – you don't have to do a thing, just add a video to your channel

Scholarship Supporter

Named as a supporter of the Future Leaders in Packaging scholarship in Packaging World, on Packworld.com, and distributed nationally.
NOTE: The 2025 Buyer's Guide will be a standalone issue, polybagged with the November/December issue of Packaging World. It will include Leaders print profiles and the complete product directory.
*One Print Ad must run in the first six months of the year.
There are significant supply chain issues in the paper market, please see our billing policy for an update on terms for print cancellations.
---
Sales Reps Should Keep the Following in Mind:
Intro Level available for first-time buyers ONLY (considered new if they have not participated in LIP in the past 3 years)
| | | | |
| --- | --- | --- | --- |
| | Intro | Pro | Premium |
| Digital Profile | Yes | Yes | Yes |
| Number of Categories | 1 | 3 | 6 |
| Print ads | 1 Full | 2 Full | 3 Full or fractional equivalent |
| Product ad in 2025 Buyer's Guide | None | 1 | 2 |
| Print profile in 2025 Buyer's Guide | Yes | Yes | Yes |
| Retargeted Ad Impressions | Up to 5k | Up to 10k | Up to 20k |
| Pricing (1% increase from 2023) | $8,200 | $15,200 | $20,200 |
AD SUBMISSION GUIDELINES
Submit your ad via our online ad portal, Send My Ad. We will set you up with a Send My Ad profile so you can easily submit your ad(s) through a direct materials upload link.
Contact Information:
Advertising production questions can be directed to Lara Krieger, Senior Print Operations Manager at 1-312-205-7924 or Lkrieger@pmmimediagroup.com