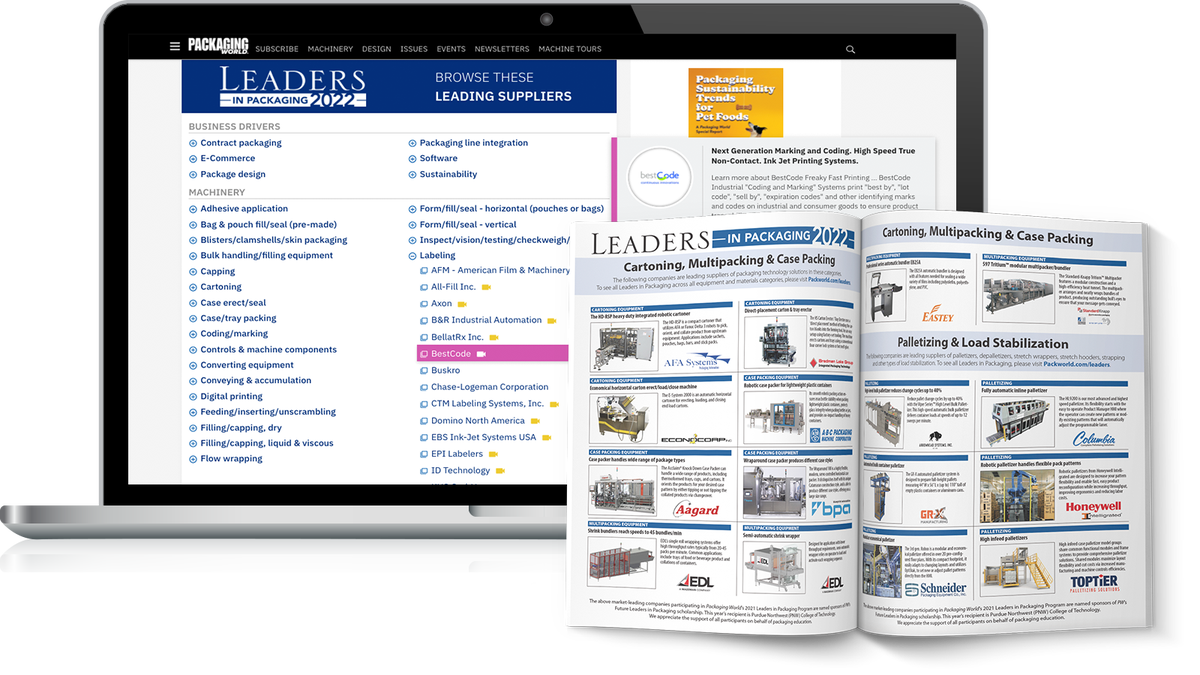 Get in front of your best prospects, year-round, when you are a Leaders in Packaging participant.
Multi-channel, year-round package includes:
Contextually triggered listing on all article pages associated with your category(ies)
Retargeted banner ads - up to 50k impressions
Leaders in Packaging profile on packworld.com
2023 Buyer's Guide print profile and ad in the March issue
Up to 3 print ads
---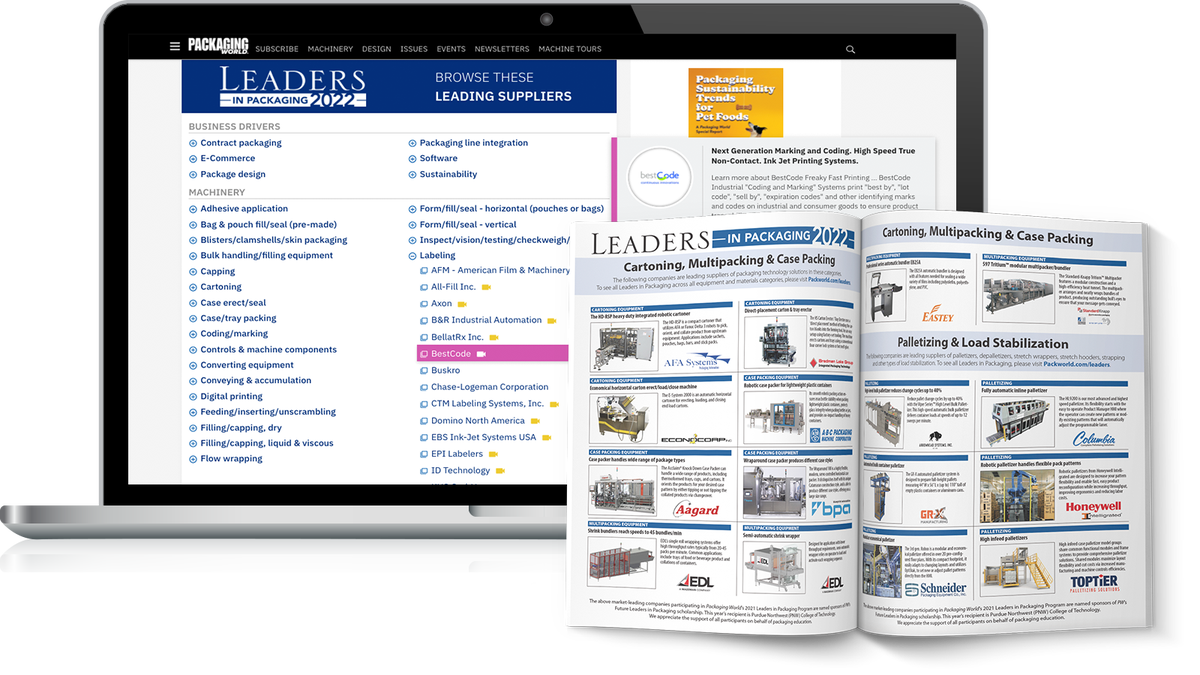 Comprehensive year-round print and digital exposure to the Packaging World audience
Pro
Premium
Material Submission Deadlines
Digital Profile (including lead gen form)
X
X
January 19th, 2023
Number of Categories
3
6
n/a
Contextually-triggered listings
X
X
n/a
Enhanced editorial engagement report
X
X
n/a
Enhanced Converge features
X
X
n/a
Retargeted ad impressions
up to 20k
Up to 50k
February 3rd, 2023
Post to PW LinkedIn (organic)
2
4
February 3rd, 2023
Youtube Amplify
X
X
n/a
Product ad in 2023 Buyer's Guide
1
2
January 19th, 2023

Print ads

*One ad must run in January issue

2 Full
3 Full or 2 pg of fractionals
For January Issue — January 13, 2023
Print profile in 2023 Buyer's Guide
Print
Print + Digital (profile in print edition AND in every digital edition of Packaging World starting April 2023)
February 3rd, 2023
Scholarship supporter
X
X
n/a
Details:
NOTE: The 2023 Buyer's Guide will be a standalone issue, polybagged with the March issue of Packaging World. It will include Leaders print profiles and the complete product directory.
Organic LinkedIn Posts

Submit copy for us to post to our Packaging World LinkedIn followers (not a sponsored post). NOTE: While we will try to post in your preferred month, this is not guaranteed due to limited posting slot availability for each month. We will be taking month preference into account on a first-come, first-served basis.
Additional Converge features

The ability to export your data
The ability to share specific company location data



YouTube Amplify included at no extra charge:

YouTube widget embedded right in your pop-up data card

All articles on your company will feature a widget with your YouTube channel

Your YouTube videos flow right onto your online profile page on our site

Always self-updating – you don't have to do a thing, just add a video to your channel
Contextually triggered listings - All articles in your category(ies) will prominently feature your company (and data card) in the LIP box. Your company displays even when the article is about a competitor

Online profile can contain even more information than print. It also includes a "Request More Info" button.



Named as a supporter of the Future Leaders in Packaging scholarship in Packaging World, on Packworld.com and distributed nationally.
There are significant supply chain issues in the paper market, please see our billing policy for an update on terms for print cancellations.
---
Sales Reps Should Keep the Following in Mind:
Intro Level available for first-time buyers ONLY (considered new if they have not participated in LIP in the past 3 years)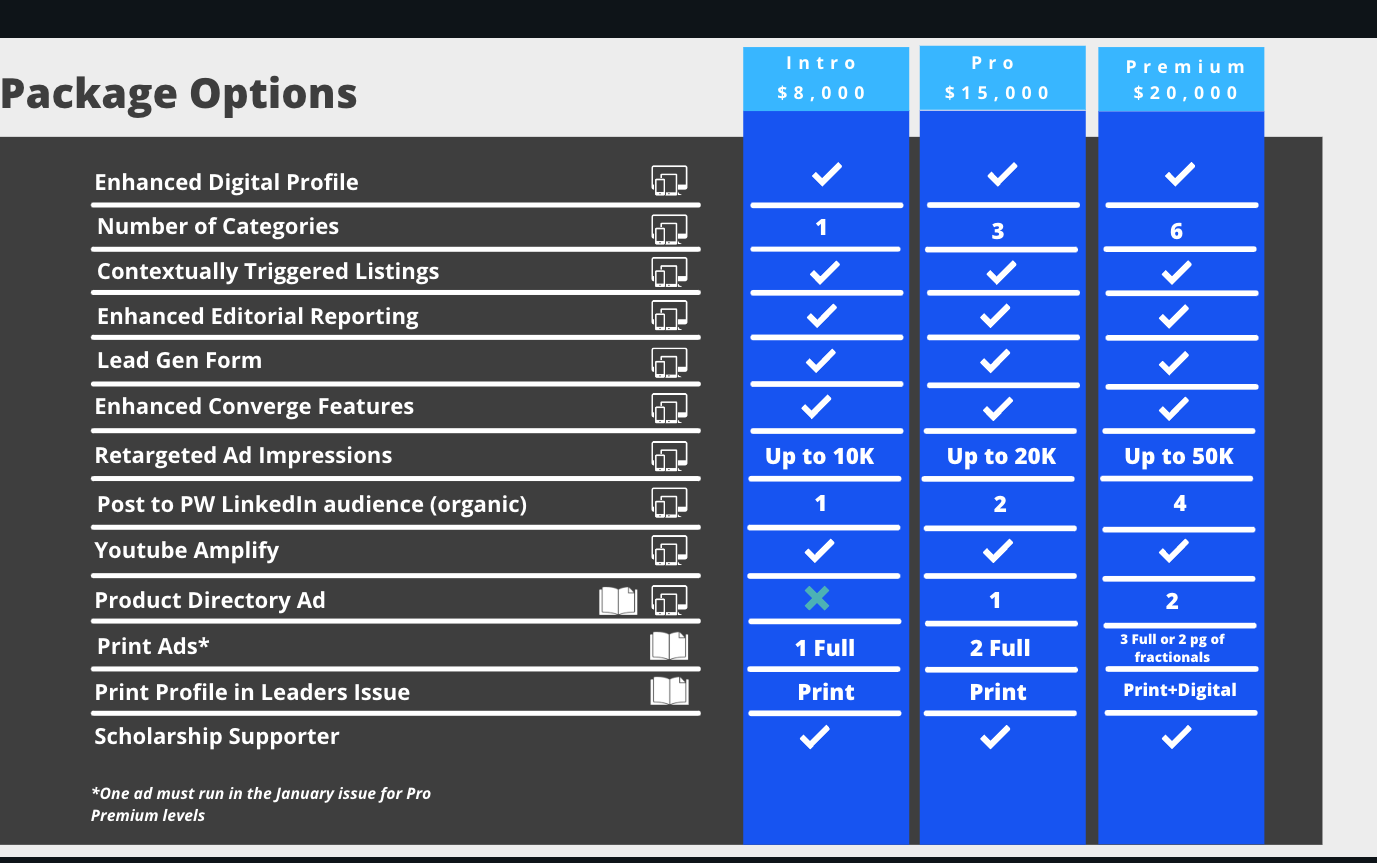 Buyer's Guide Product Ad Specs: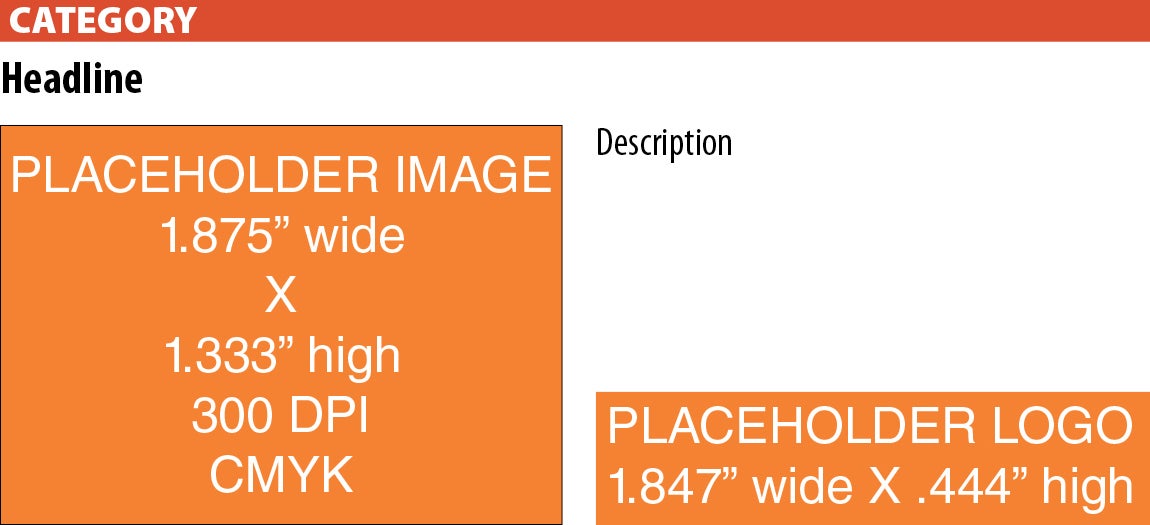 Please ensure your image and logo are .jpg files.
Headline: 65 characters with spaces
Body Copy/Description: 250 characters with spaces
Buyer's Guide full-page ad only:
Trim: 8.375" wide x 10.875" high
Bleed: 8.625" wide x 11.125" high
Safe Area: 7.875" wide x 10.375" high
Digital/online specs:
Featured Product: 344px by 258px
Featured Videos: 320px by 240px
Key Contact: 100 by 100px
Logo: 130px max width, 130px max height
ORGANIC LINKEDIN POST SPECS
Image - File Type .jpg or .png; Resolution 1080x1080; Ratio 1.91:1 to 1:1

Avoid images with text (text must compose less than 20% of the image)
Optimize attention with simple composition, bold color and appropriate cropping.
Convey relevance
Logo/branding needs to be visible

Brief message- 140 charcaters max
Landing Page URL