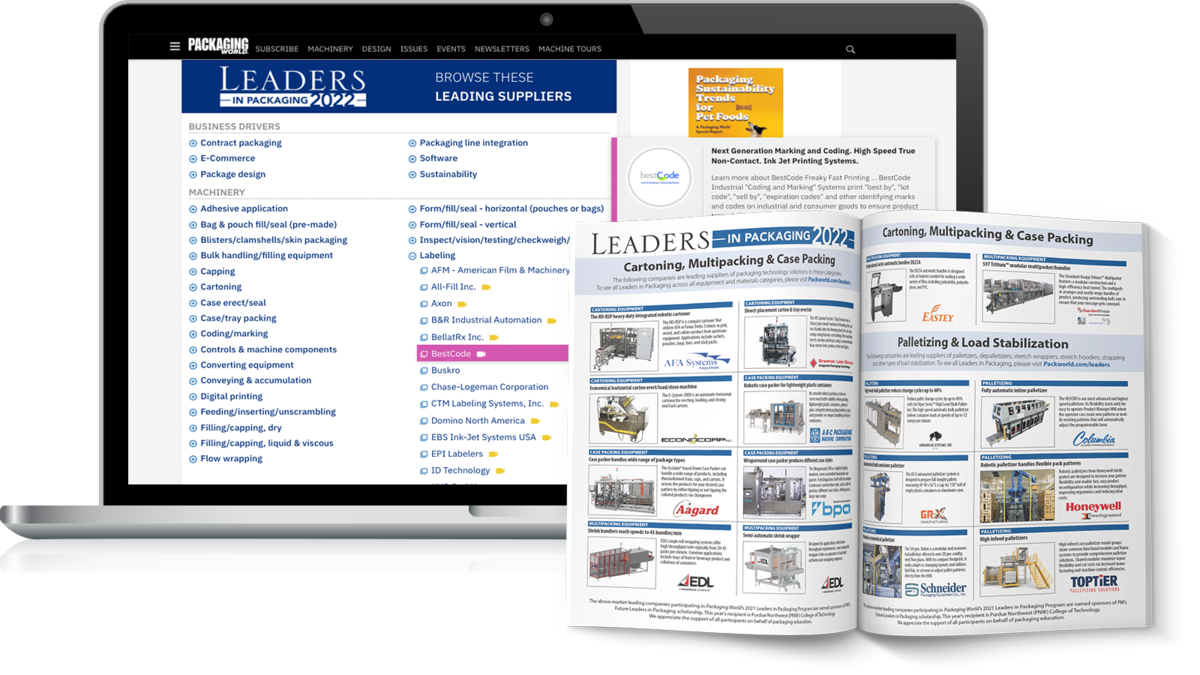 Comprehensive year-round print and digital exposure to the Packaging World audience
Print
Full-page profile in the January issue



New for 2022! 10 of 12 Packaging World issues will feature one or more Leader's category(ies) in the new Leaders Product Directory section.
Digital – receive the following coverage for the entire year:
YouTube Amplify - automatic feed from your YouTube channel

links to up to four products – SEO value (Google sees us as an authoritative site)



Contextually triggered listings - All articles in your category(ies) will prominently feature your company (and data card) in the LIP box. Your company displays even when the article is about a competitor

Online profile can contain even more information than print

Named as a supporter of the Future Leaders in Packaging scholarship in Packaging World, on Packworld.com and distributed nationally.
Other new benefits in 2022:
Real-time reporting through our new enhanced Editorial Engagement Reporting. See profile views and clicks, plus category activity Access through your Leadworks dashboard
If you have a listing on our machine.tours website, your tour will show up in the top "Industry Leaders" section of the search results
Coming March 2022 - Additional Converge features/upgrade (complimentary for Leaders participants, non-participants will be charged an annual fee for the following):

The ability to export your data
The ability to set up notifications when new data comes in
YouTube Amplify included at no extra charge:
YouTube widget embedded right in your pop-up data card

All articles on your company will feature a widget with your YouTube channel

Your YouTube videos flow right onto your online profile page on our site

Always self-updating – you don't have to do a thing, just add a video to your channel
---
Sales Reps Should Keep the Following in Mind:
Additional Information