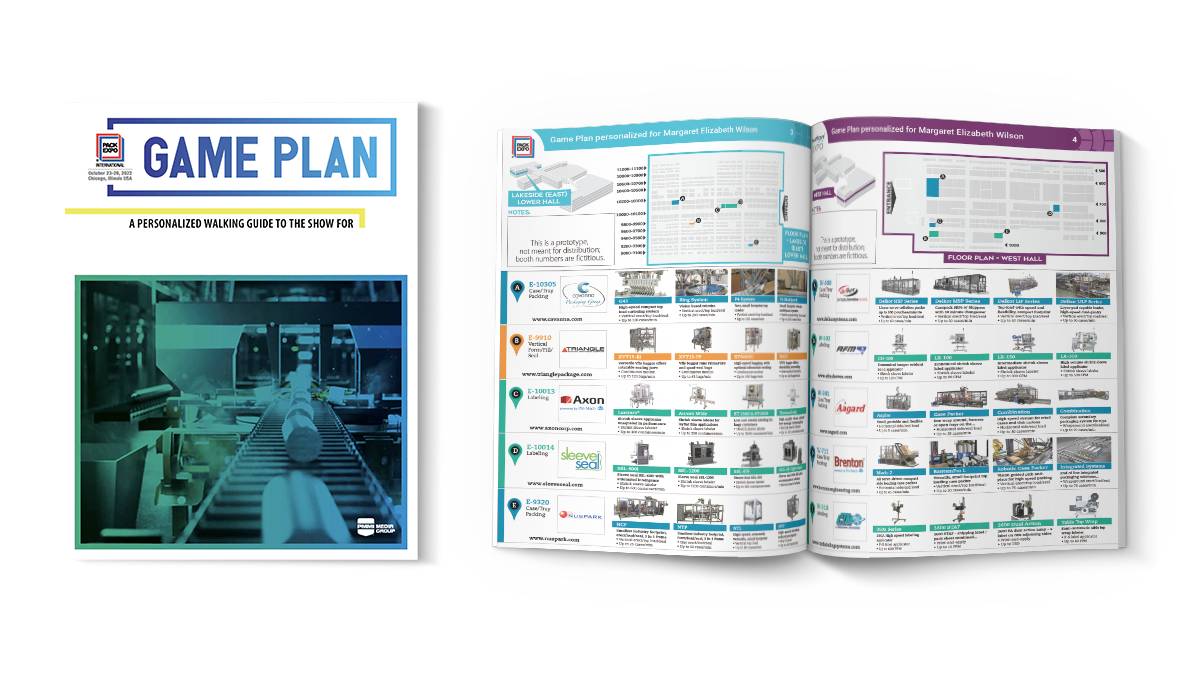 Make Your Booth a Destination
Game Plan is a personalized booth itinerary for PACK EXPO attendees, customized based on the product categories they're investigating at the show. As an exhibitor who advertises in Game Plan, your booth and products will be included in the individual itineraries we create for attendees who have indicated a specific interest in your product category or categories, when they first register for the show.
PACK EXPO is massive and it's almost impossible for attendees to see everyone they need to see

Our personalized walking guide literally puts you on the map for attendees who have indicated a buying interest in your product categories

Research shows that exhibitors who participate in Game Plan receive 97% more leads than those who do not

ROI based reporting correlating booth scans to Game Plan recipients

Some elements of reporting may require use of a PMMI scanner at the show

Game Plan is PACK EXPO's official, printed and personalized show guide mailed to all pre-registered end-user attendees in U.S. and Canada who register more than two weeks before the show

Your listing includes a sneak peek of up to four of your products.

In a survey conducted with Game Plan recipients, 90% reported using Game Plan either before or during the show, and 86% found it useful to have companies suggested to them based on their categories of interest.
There are significant supply chain issues in the paper market, please see our billing policy for an update on terms for print cancellations.
---

G. Headline Maximum Characters: 35 including spaces
F. Descriptions Maximum Characters: 120 including spaces
NOTE: Depending on the character, maximum count could vary. Text including more wider characters...m, w, etc....will fit less characters than the specified maximum. Text including more narrow characters...i, l, etc....will fit more characters than the specified maximum.
D. Logo Specs:
Minimum dimensions: 2" wide x 2" high

Aspect ratio: 1:1

Formats: jpg, png

Resolution: 175 dpi or greater
E. Product Image Specs:
Minimum dimensions: 4" wide x 2" high

Aspect ratio: 2:1

Formats: jpg, png

Resolution: 175 dpi or greater



Full Page Cover Ad Specs: