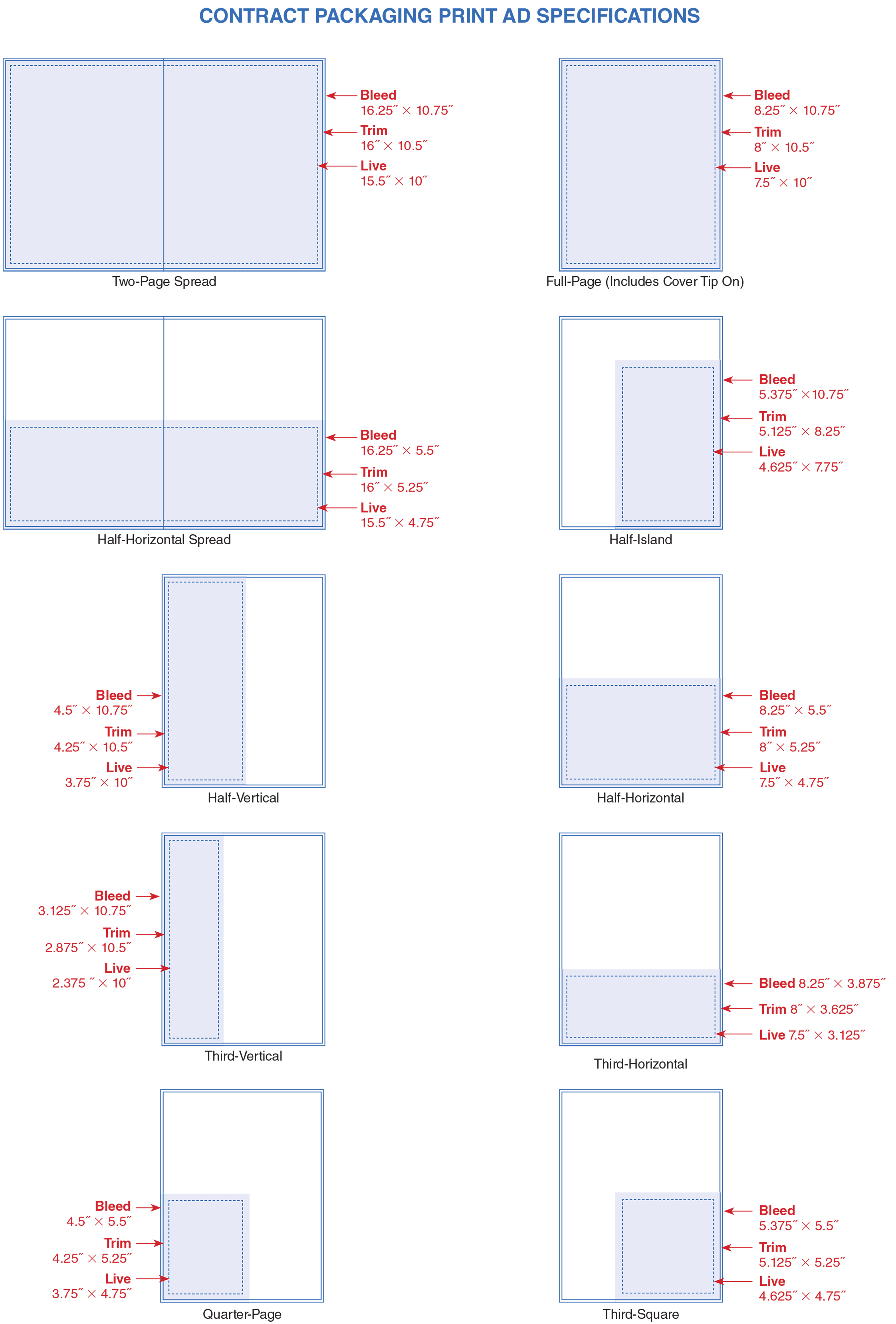 AD CREATION SPECIFICATIONS
All advertising material MUST be submitted digitally.
Accepted formats:
• High-resolution PDF (300 dpi, CMYK), saved in X1:A format
• High-resolution (300 dpi, CMYK) TIFF or EPS file
If your digital file is in a different format than above, please contact Production Manager George Shurtleff (312-205-7890) to verify acceptability.


When creating your digital ad:
1. Embed all fonts or outline them.
2. Make sure all RGB and spot colors are converted to CMYK.
3. Do not use JPEG compression or native Photoshop files.
4. Make sure all images within the ad are 300 dpi and CMYK.
5. When creating a bleed advertisement, make sure all important material is within the live space and that the bleed size extends on all sides of the ad.
AD SUBMISSION GUIDELINES
Printing, binding methods: Printed offset and perfect-bound.
Inserts: Contact Production Manager George Shurtleff (312-205-7890)
Printing Specifications: Follow SWOP recommended standards.
Artwork: Any necessary artwork or copy preparation will be billed to advertiser.
Digital Ad Specifications: Packaging World is printed computer-to-plate (CTP). Ad material should be submitted in a digital or electronic format and must comply with the specifications that follow.
Accepted document formats: Properly produced PDFs are strongly encouraged. Documents saved as an EPS are also accepted. Please see additional details above.
Fonts: All fonts should be embedded or outlined.
Images: Make sure all images are CMYK and the file is fully flattened.
Proof: In compliance with PMMI Media Group policy, you are required to submit a SWOP 3 certified proof. If a SWOP certified proof is not submitted with an ad submission, the color reproduction of the ad will be based on industry standard best practices to achieve as accurate color as possible from the supplied digital file.
Submit your ad via our online ad portal, Send My Ad. We will set you up with a Send My Ad profile so you can easily submit your ad(s) through a direct materials upload link.
Contact & Shipping Information: Advertising production questions can be directed to George Shurtleff, Production Manager at 312-205-7890, ext. 1150, Packaging World, 401 N. Michigan Ave., Suite 1700, Chicago, IL 60611