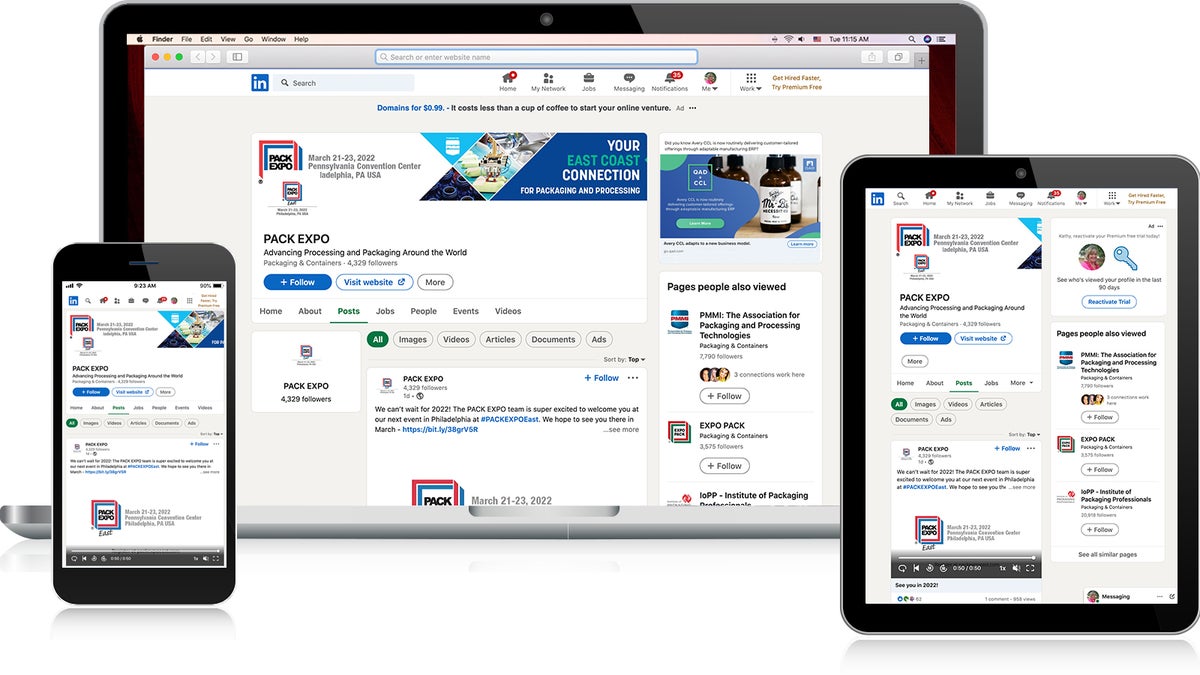 The only way to target pre-registrants and potential
PACK EXPO attendees by category on LinkedIn.
Reach buyers interested in your chosen product categories as they're scrolling through LinkedIn before, during and after PACK EXPO International. Pre-show, at-show and post-show promotion to your target audience is almost sure to increase booth traffic at the show and grab attention post-show.
Connect with an Expanded Audience
The audience you choose includes all pre-registrants who have indicated buying interest in your chosen category.
Plus, your post will even reach potential attendees who have indicated an interest in your chosen categories and are likely to attend the show!
Choose from two timeframes:
September 30th - October 14th Run | Materials Due: September 16th
October 14th - October 28th Run | Materials Due: October 1st
**Spots are limited**
Only 5 spots per timeframe are available
Each category can only be used once per timeframe
Details
Ads will run for 14 days
Minimum of 2 (can accept up to 4) full sets of creative (see specs tab)

Additional creative allows for your ad to be served more frequently
---
SALES REPS SHOULD KEEP THE FOLLOWING IN MIND:
If a customer has problems producing multiple sets of creative, we need to be sure to let them know that it will hurt their campaign performance. Even if they can only provide one image, encourage them for multiple sets of copy – it only has to be slightly different!
Disclaimer:
Unlike other products, we do not guarantee a specific number of impressions or video views because it depends on the number of attendees to the show

We will try to maximize reach to that specific audience segment

Actual impression and video views will vary based on product category
Please submit the items indicated below.
** Minimum of 2 full sets of creative (can accept up to 4)
Additional creative allows for your ad to be served more frequently
Materials are due 7 days before the start date of your campaign.
Image - File Type .jpg or .png; Resolution 1080x1080; Ratio 1.91:1 to 1:1 (A)

Avoid images with text (text must compose less than 20% of the image)

Optimize attention with simple composition, bold color and appropriate cropping.

Convey relevance

Logo/branding needs to be visible

Message - should include no more than 125 characters (including spaces) (B)

Headline - should be no more than 25 characters (C)

Landing Page URL
**Our specs for text word count are strict so that we can accommodate all LinkedIn placements, whether it's in the main feed on desktop or in a mobile banner.