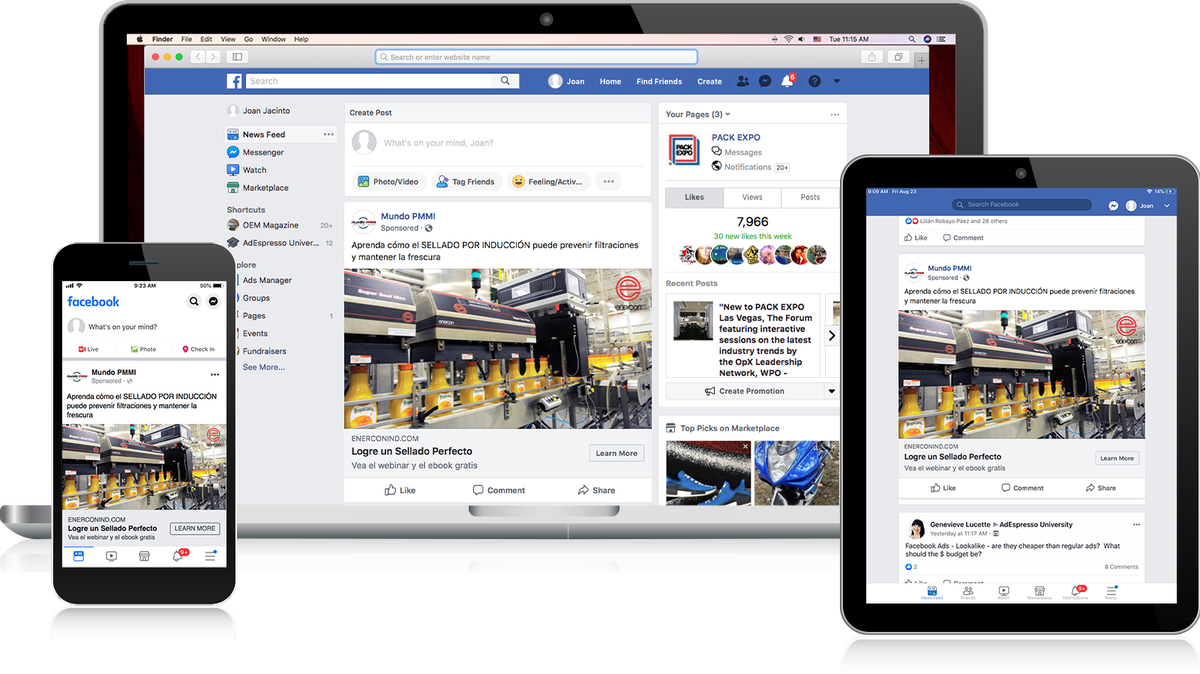 Drive traffic to your site!
The facts show that the people you want to reach are clicking on Facebook.
This is the ONLY way to target PMMI Media Group's email database with your content on Facebook! Get access to our entire Mundo audience (20-25k), which is unavailable if you advertise directly on Facebook yourself.
Which campaign type is right for you?
Video:




Show off your product in action
Time-sensitive content that you want to share with the most amount of people in the shortest amount of time.
Sponsored Posts

:

Drive traffic to your site
Build brand awareness
Preview samples of video and sponsored posts on the right-side menu.
Total campaign management
Campaigns generally run 5-14 days (depending on the number of creatives provided)
Frequency is key. We recommend purchasing Facebook as part of a package whenever possible.
Expected to reach 20-25K people
Facebook Sponsored Post: Unique CTR between 1-3%
Facebook Video: 10-sec VTR of 10-30%
No Leads

Even though we cannot give lead information, commenters have been very engaged (such as "give me details" or "more information") – advertisers can reach out to those commenters on their own through Facebook.
Facebook is set up to automatically serve around viewing behaviors of the audience to get the best response.
16+ placements, including:

Mobile and desktop news feeds
Facebook stories
Instagram feed and stories
Feeds within Facebook groups
Marketplace placements, etc.

We encourage you not to limit your campaign to a single placement type.

For example, if the target audience tends to use Instagram more than Facebook, you lose many opportunities to reach them if you only post on Facebook.
We've got your privacy concerns covered
We're not using Facebook's data, websites you visit, income info, etc. to target. All the targeting is done on our end with legitimately obtained data.
---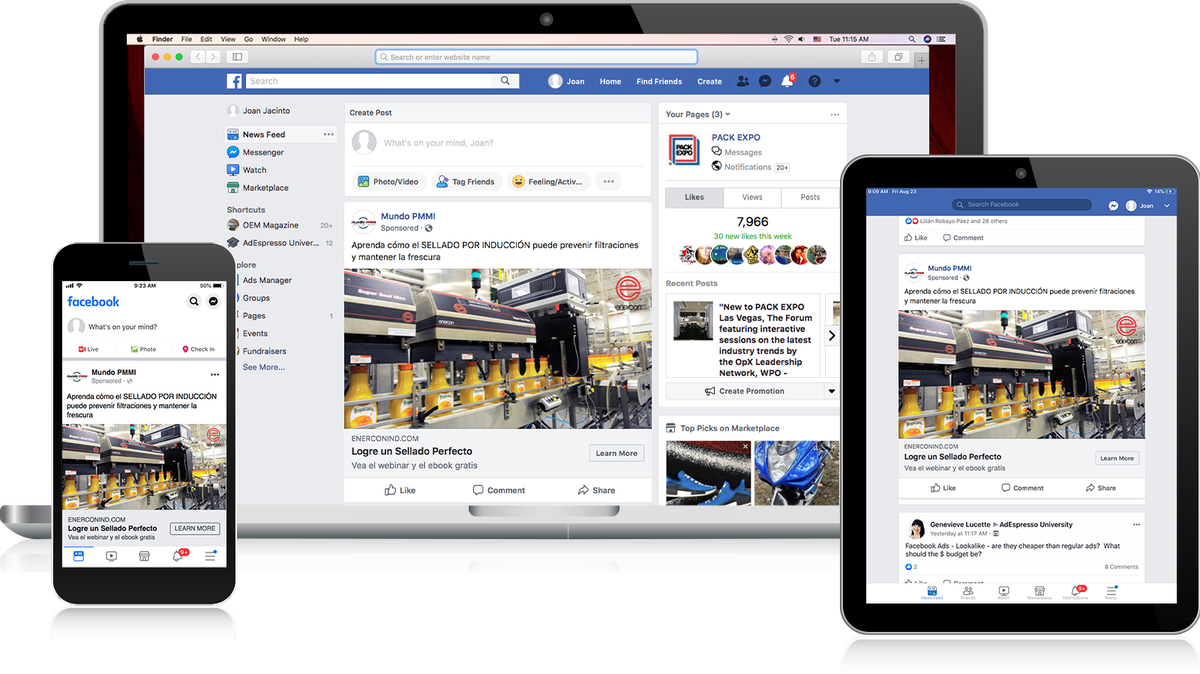 ¡Dirija tráfico a su sitio!
¡Esta es la ÚNICA forma de apuntarle a la base de datos de correo electrónico de PMMI Media Group con su contenido en Facebook! Obtenga acceso a toda nuestra audiencia Mundo (20-25k) que no está disponible si usted anuncia directamente en Facebook.
¿Qué tipo de campaña es la adecuada para usted?
Video
Muestre su producto en acción
Contenido urgente que desea compartir con la mayor cantidad de personas en el menor tiempo posible
Publicación patrocinada
Dirija el tráfico a su sitio
Genere conciencia de marca
Gestión total de campañas
Las campañas suelen durar de 5 a 14 días.
La frecuencia es clave. Recomendamos comprar Facebook como parte de un paquete siempre que sea posible.
Espere llegar a 20-25.000 personas
Publicación patrocinada en Facebook: CTR único entre 1-3%
Video de Facebook: VTR de 10 segundos de 10-30%
Sin clientes potenciales

Aunque no podemos brindar información de clientes potenciales, los comentarios han mostrado mucha involucración (como "deme detalles" o "más información") - los anunciantes pueden comunicarse con los autores de los comentarios por su cuenta a través de Facebook
Facebook está configurado para presentar automáticamente en torno a los comportamientos de visualización de la audiencia para obtener la mejor respuesta.
Más de 16 ubicaciones, que incluyen agregadores (feeds) de noticias para dispositivos móviles y de escritorio, historias de Facebook, feeds e historias de Instagram, feeds dentro de grupos de Facebook, colocaciones en Marketplace, etc.
Le recomendamos que no se limite a una sola ubicación (p. ej., columna derecha)

Por ejemplo, si la audiencia tiende a ser un gran número de usuarios de Instagram, entonces acaba de perder muchas oportunidades de llegar a ellos.
Queremos responder a la forma en que el destinatario se relaciona con los medios en ese momento
Cubrimos sus inquietudes de privacidad
No utilizamos los datos de Facebook, los sitios web que visita, la información de ingresos, etc. para orientar la publicidad. Toda la orientación se realiza por nuestra parte con datos obtenidos legítimamente.
Separe sus sentimientos personales sobre Facebook de su eficacia como canal de marketing. Los hechos muestran que las personas a las que desea llegar están haciendo clic en Facebook.
---
SALES REPS SHOULD KEEP THE FOLLOWING IN MIND:
Sales Collateral
Please submit the items indicated below. Materials are due 7 days before the start date of your campaign.
Our specs for text word count are strict so that we can accommodate all Facebook placements, whether it's in the main feed on desktop or in a mobile banner.
For a Sponsored Post:
Image - File Type .jpg or .png; Resolution 1080x1080; Ratio 1.91:1 to 1:1 (A)

Avoid images with text (text must compose less than 20% of the image)

Optimize attention with simple composition, bold color and appropriate cropping.

Convey relevance

Message - should include no more than 125 characters (including spaces) (B)

Headline - should be no more than 25 characters (C)

Link Description - No more than 30 characters (D)

Landing Page URL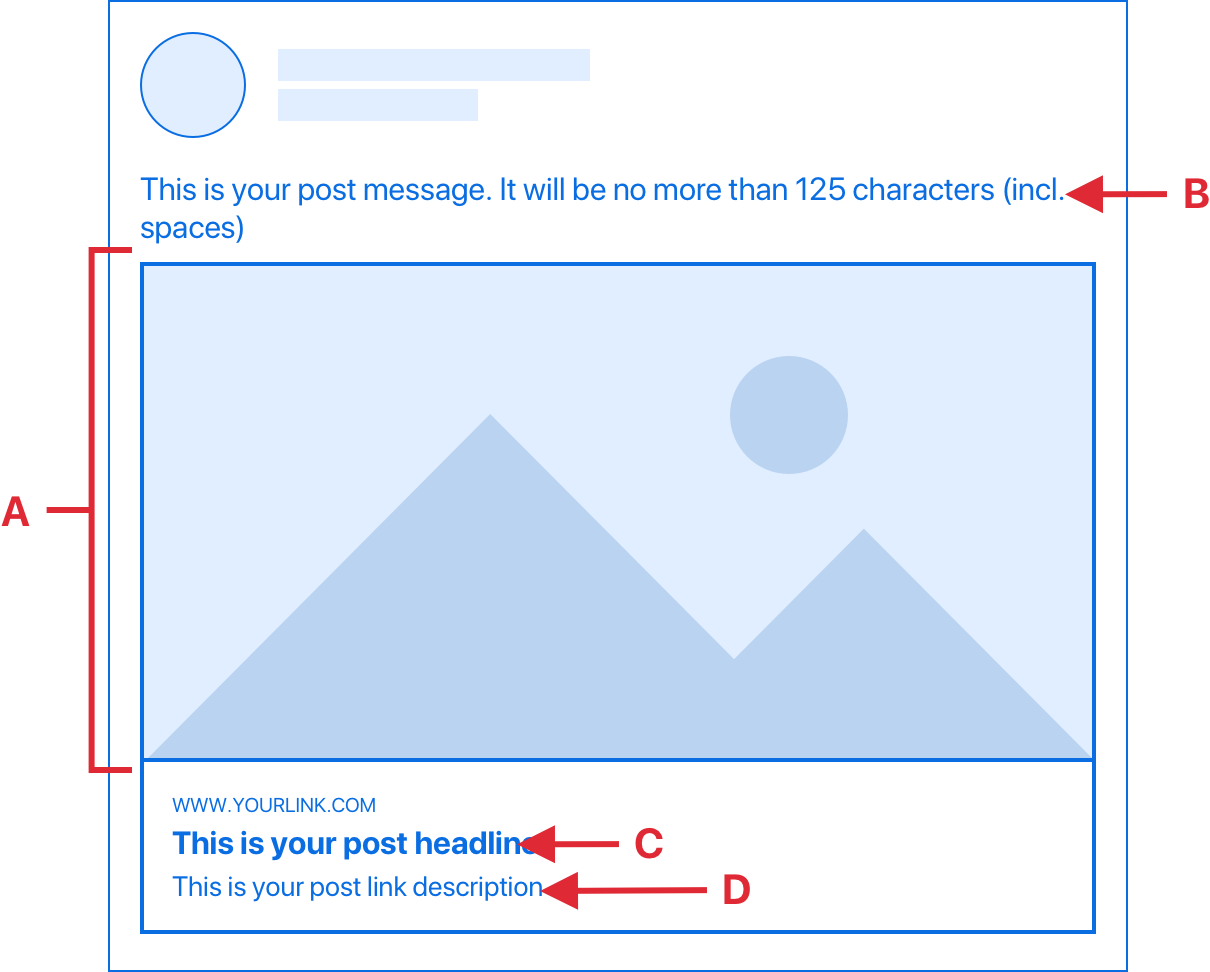 For a Video:
Video file - 1280x720 with a minimum width of 600 pixels. Aspect ratio: Landscape 16:9, portrait 9:16. Videos should be between 10 and 30 seconds for optimal performance. We recommend 15 seconds.

Image - size 1200X628 or 1800x1080. Images should have little to no text. Do not place a play button on your image, FB automatically adds one. (A)

Pre-header - no more than 90 characters, including spaces (B)

Description - no more than 25 characters, including spaces (C)