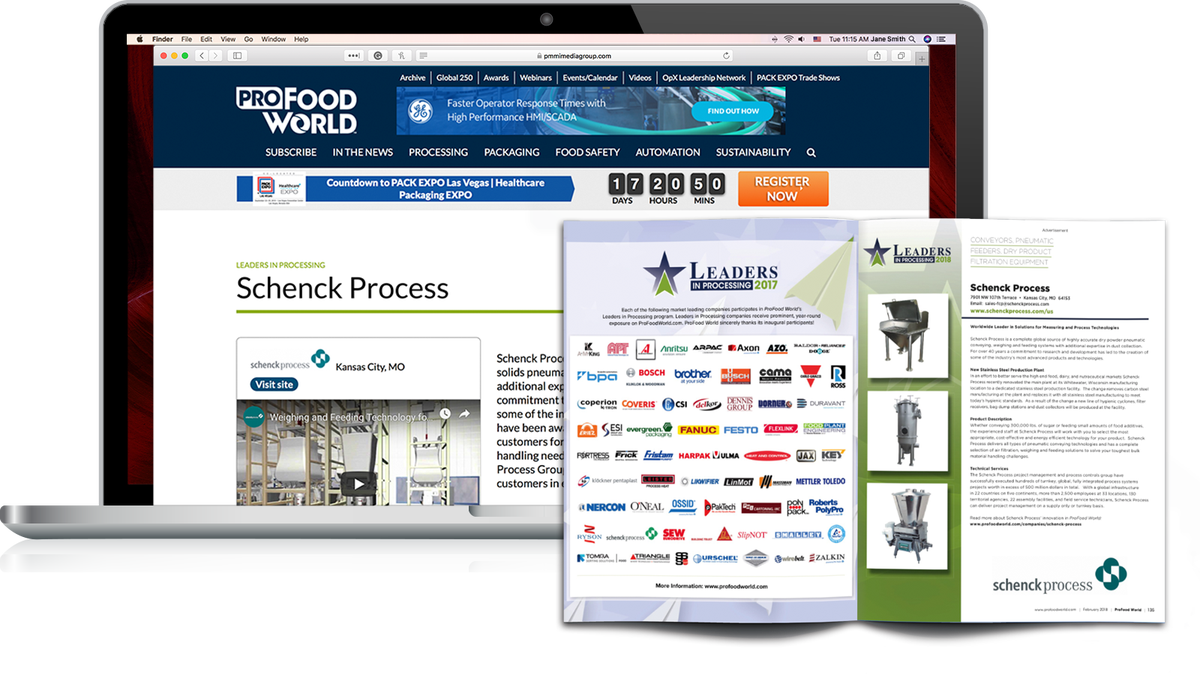 Leaders in Processing offers unparalleled print and online branding. Receive prominent, year-round exposure on ProFood World.com and in ProFood World.
Comprehensive year-round exposure in print and on our website
Print
Full-page profile in the February issue

Leaders in Processing print ad, containing your logo
Online – receive the following coverage for an entire year
Listed in up to six categories on the home page of ProFoodWorld.com

Contextually triggered listings - All articles in your category(ies) will prominently feature your company in the LIP box (and data card). Your company displays even when the article is about a competitor

Receive an online profile can contain even more information than print
Other benefits include:
Real-time reporting through our new enhanced Editorial Engagement Reporting. See profile views and clicks, plus category activity Access through your Leadworks dashboard
Additional Converge features/upgrade (complimentary for Leaders participants, non-participants will be charged an annual fee for the following):

The ability to export your data
The ability to set up notifications when new data comes in
YouTube Amplify included at no extra charge:
YouTube widget embedded right in your pop-up data card

All articles on your company will feature a widget with your YouTube channel

Your YouTube videos flow right onto your online profile page on our site

Always self-updating – you don't have to do a thing, just add a video to your channel
Qualification criteria
Purchase one full-page ad (or the equivalent in fractionals) to run in the February issue
There are significant supply chain issues in the paper market, please see our billing policy for an update on terms for print cancellations.
---
Sales Reps Should Keep the Following in Mind:
The ProFood World Brand Operations Manager will contact you with further instructions for print specs.
Digital/online specs:
Featured Product: 344px by 258px
Featured Videos: 320px by 240px
Key Contact: 100 by 100px
Logo: 130px max width, 130px max height