Get more from your ads!
Choose the ad products that match your budget, branding, and awareness needs. Your ads will be displayed in front of our readers on the brand site(s) of your choosing.
Leaderboards (regular, large, and mobile)
Skyscrapers
IMUs
Flexi
Upgrade your flexi to "own the page"!
Roadblock

have as many of your ads as possible show up at one time to "roadblock" the page
Company Targeted Sponsorship

anywhere your company is tagged, have strictly your ads show up on that page (block out competitors)
Measurable Results:
Start of Campaign
Within 48 hours of the start date, you'll receive a screenshot of your live ads on our site.
End of Campaign
Your CSM will provide a breakdown of impressions, clicks, and CTR based on creative size.

Average CTR is around 0.1%
---
¡Obtenga más de sus anuncios!
Elija los productos publicitarios que se ajusten a su presupuesto, marca y necesidades de conocimiento. Sus anuncios se mostrarán frente a nuestros lectores en los sitios de marcas que elija.
Tablas de clasificación (regulares, grandes y móviles)
Rascacielos
IMUs
Flexi
¡Actualice su flexi para "ser dueño de la página"!
Publicación simultánea (Roadblock)

hacer que se muestren tantos anuncios como sea posible a la vez para hacer una "publicación simultánea" en la página
Patrocinio dirigido a empresas

en cualquier lugar donde se etiquete su empresa, haga que sus anuncios se muestren estrictamente en esa página (bloquee a los competidores)
Resultados medibles:
Inicio de campaña
Dentro de las 48 horas posteriores a la fecha de inicio, recibirá una captura de pantalla de sus anuncios en vivo en nuestro sitio.
Fin de campaña
Su CSM proporcionará un desglose de impresiones, clics y CTR según el tamaño creativo.

El CTR promedio es de alrededor del 0,1%
---
Sales Reps Should Keep the Following in Mind
Use the Inventory Doc to view forcasted available inventory for upcoming months
Note - Both OEM and Mundo have a 2k monthly impression cap - do not sell more than 2k a month for these brands! Please verify with your CSM if inventory is available for these two brands.
Display Ad Options:
Formats accepted: jpg, png, gif or animated GIF – maximum 300KB.
We do not accept auto-initiated audio or videos, or expandable banners.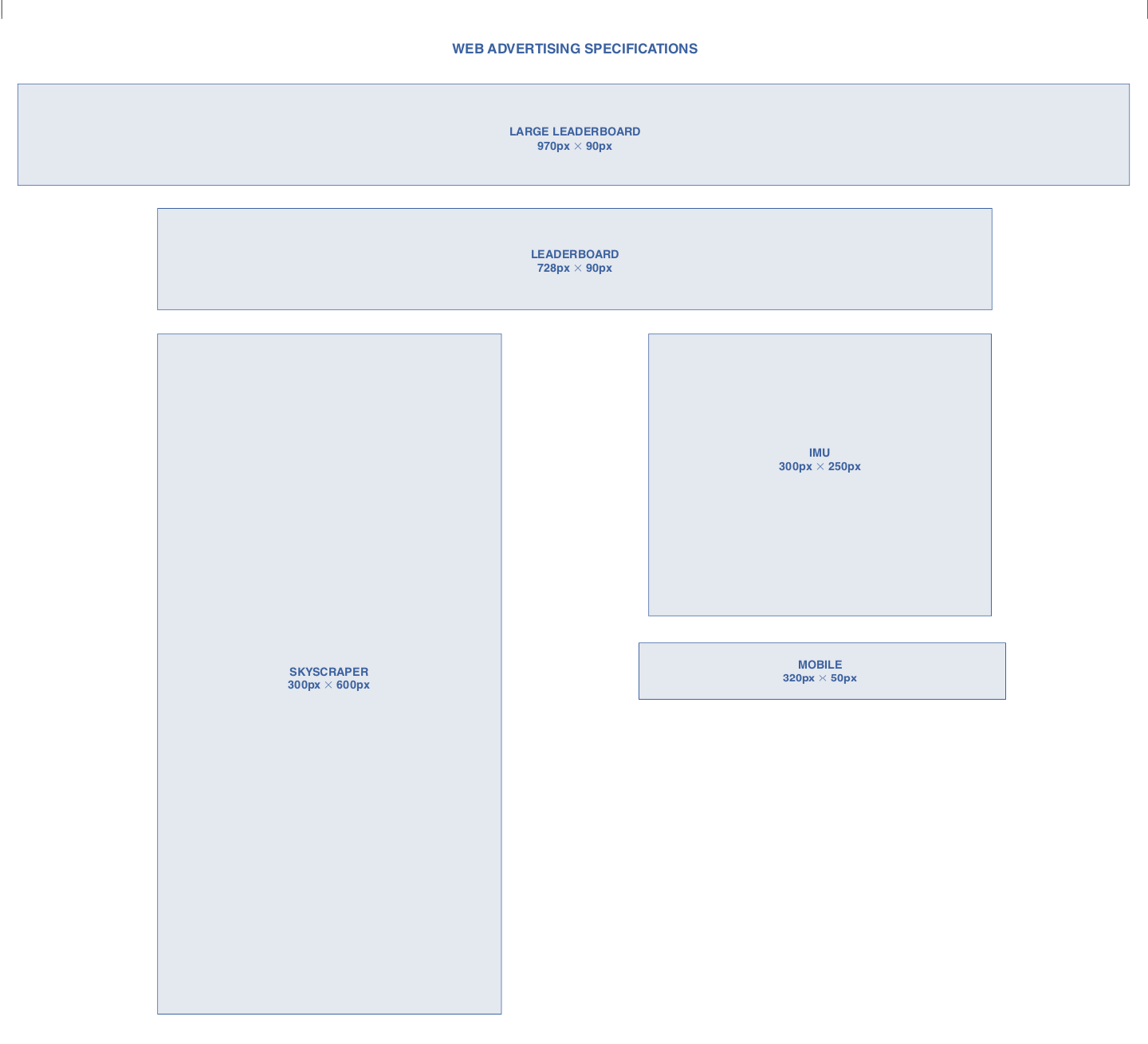 Accepted Formats: jpeg, gif, animated gif.
Third-party ad tags are accepted (Java preferred).
*Book end ads have the same specs as Skyscrapers (300x600px)