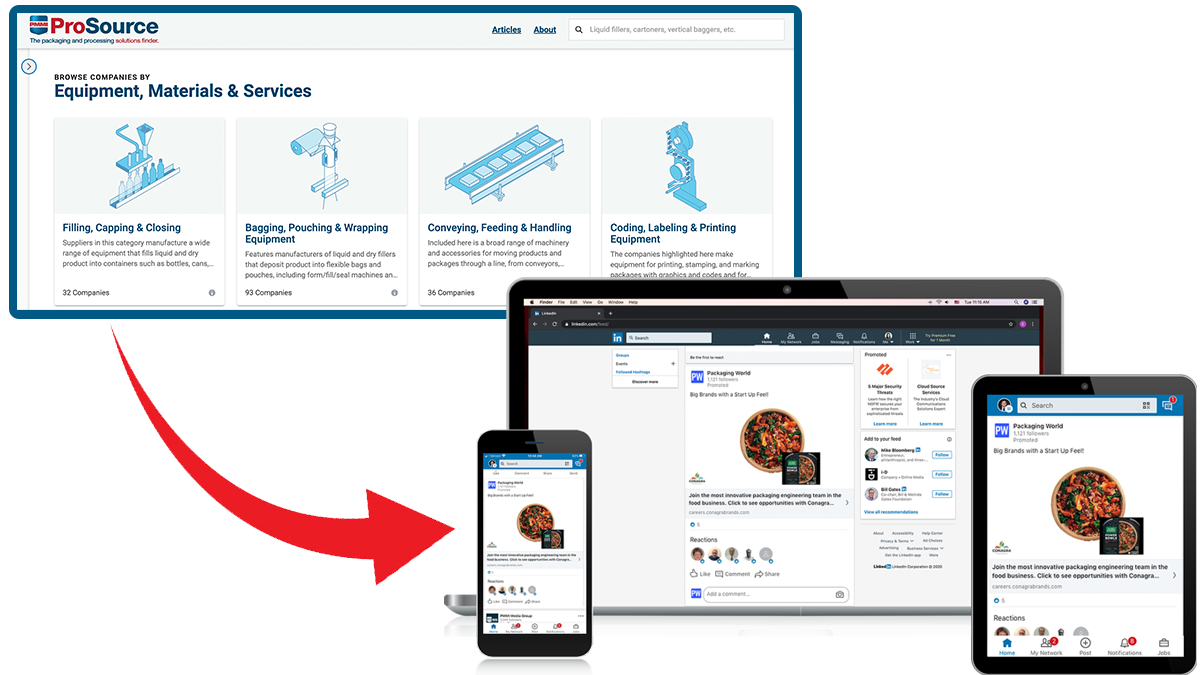 Reach decision
-
makers at verified CPGs who are actively researching machinery, targeting by the
category they are looking to purchase.
Retarget the high-intent ProSource audience via LinkedIn campaign with the goal of driving traffic to the your target URL.
Why is the audience valuable?
End users searching the ProSource directory are more likely to be in in-market for a solution in the categories they search.
This unique offering extends targeting beyond the PMMI Media Group database to additional decision-maker contacts associated with targeted companies.
Buyer intent campaigns include and introductory price of $6,500 through the remainder of 2023, after which the price will increase by $1,500 to $8,000.
Available Audience Categories
Bagging, Pouching, Wrapping
Cartoning, Multipacking & Case Packing
Coding, Labeling, Printing
Conveying Feeding & Handling
Filling, Capping, Closing
Materials Containers & Consumables
Palletizing & Load Stabilization
Plant Facilities, Infrastructure & Operations
Processing Equipment
Robotics
---
Sales Rep Info
Why would someone pick PAN or Buyers Intent?
PAN — Value: Targeted, Niche, & Verified Individuals in the Industry

Reach our 1st party subscribers that are verified end users in specific industries, job duties, and expressed machinery buying interest through SHOW data. Target this audience via LinkedIn, Facebook, 3rd party Banner Ads, or 3rd party Video Pre-Roll.

Buyers Intent — Value: Verified Companies Searching for Machinery

Reach verified end-user companies that have actively researched machinery or materials on a high-intent website (ProSource) within a specific machinery category. Target this audience via LinkedIn, using specific decision-maker job titles.

These are two distinctly different audiences, both with their own unique value and benefits for an advertiser. Which avenue an advertiser should go depends on their goals.
FAQ
How do we know who is searching ProSource?
We use website visitor identification software to identify companies and then target key decision-maker titles from these companies via LinkedIn
Can we target Buyer Intent Campaigns by other channels such as Facebook or third-party banner ads?
At this time, we are only using LinkedIn because of their company targeting capabilities.
How long do records stay in the target audience?
Due to long buying cycles, we will keep contacts in the targeted audience for 1 year with updates made monthly.
Will more categories be added?
Available categories and subcategories can grow in the future as audience size allows. Our minimum threshold is 20,000 contacts per category.
How long does each campaign run?
Similar to the existing LinkedIn offering, campaigns will run for two weeks.
Please submit the items indicated below.
** Supply a minimum of 3 full sets of creative (can accept up to 4) is required.
Additional creative allows for your ad to be served more frequently
Materials are due 7 days before the start date of your campaign.
If Video - File Type .mp4; Duration 3 seconds (min) to 30 seconds (max)


Ratio 4:5, 9:16, 16:9, or 1:1
Frame Rate: 30 frames per second
File Size: 75 KB (min) to 200 MB (max)
Custom Thumbnail recommended

File Type: .jpg or .png
Aspect ratio & resolution should match video's
**Our specs for text word count are strict so that we can accommodate all LinkedIn placements, whether it's in the main feed on desktop or in a mobile banner.