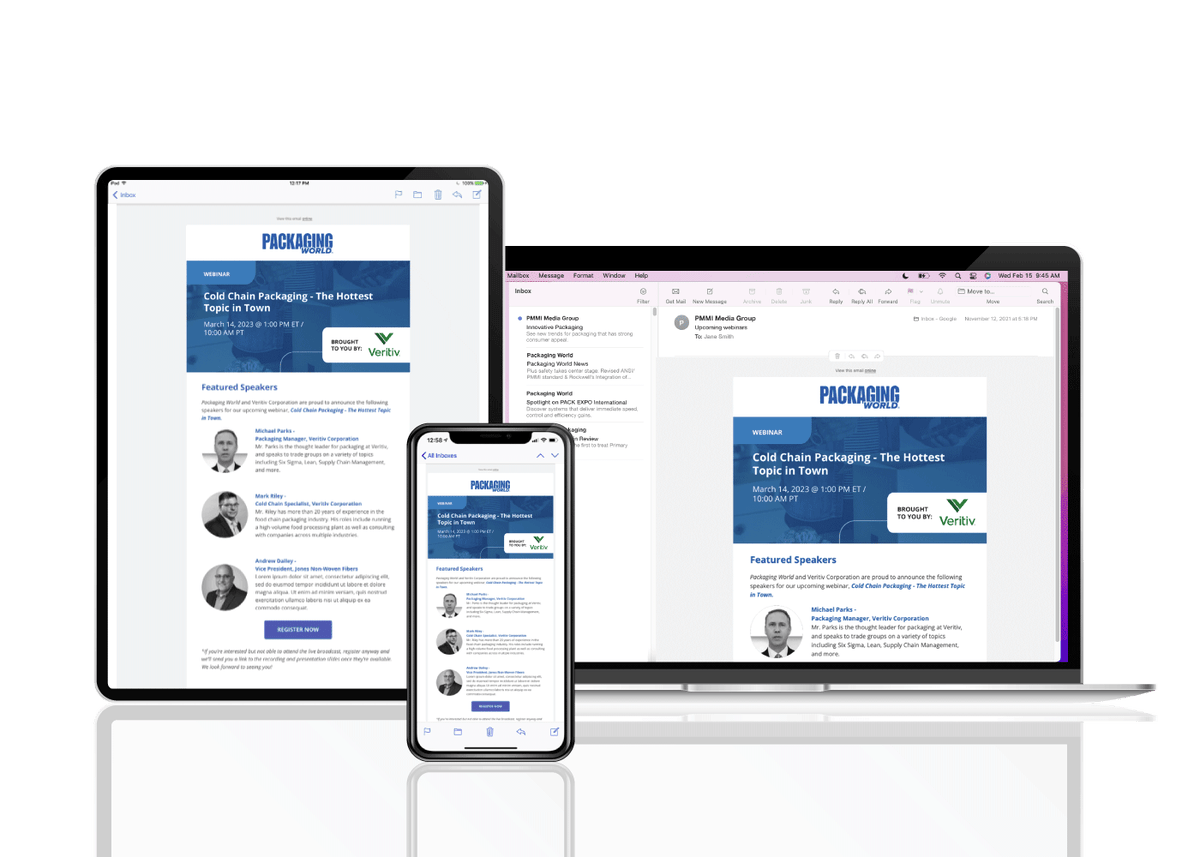 Webinars are a powerful way to share your industry expertise and position your company as a thought leader in front of the packaging and processing community.
PMMI Media Group is making webinars more exciting and easier than ever. Our state-of-the-art broadcasting technology and promotional package ensure your best prospects register and attend.
All you need to do is provide 45 minutes of content and our team will help with the rest from start to finish. Plus, one of our expert B2B editors will moderate to bring even more credibility to the table.
Webinar Promotional Package
Inclusion in up to six weekly dedicated webinar newsletters promoting webinar registration and on-demand access
Plain-text email invite from our editor 24-48-hours prior to broadcast
Run-of-site web promotion on publication website (e.g. Packaging World)
Pop-up ad on publication website in the seven days leading up to the webinar
LinkedIn event listing marketed to publication followers
Sponsored and organic social media posts to LinkedIn and/or Facebook
2023 Webinar Upgrades
New, fully white-labeled webinar platform with advanced production and engagement tools
Comprehensive multi-week marketing campaign including email, social, and publication website promotion
Bonus Self-Service Promotion
Referral marketing tools to amplify promotion across your network
Plain-text email template to promote to your in-house email list
Our webinar team support includes:
Lead generation
Opportunities for custom-tailored registration questions to be added
Moderation by our highly respected editors
On-demand presence for 12 months
One-on-one speaker training and practice opportunities
Behind the scenes, our staff will set you up for success:
With your input, we'll produce the ideal webinar invitation and create a custom-built registration page exclusive to your event
Editors will review the landing page information and contextualize if necessary before the page is created
We'll share speaker best practices and rehearse with you to ensure a smooth presentation
You will provide four questions for the moderator to ask during or after the presentation
Webinars Hosted By An Editor
Your sales rep is required to vet your topic with our VP of Content for approval.
For successful thought leadership content creation, it is always better to be more educational and less promotional.
Your team has purchased a webinar that will be hosted by one of our respected B-2-B editors. Purely promotional content is not appreciated by our readers and makes it difficult for an editor to engage with the topic.
Provide some context. Why is the market changing and how did this new technology develop?
Rather than a focus on your organization and product, what are the benefits to readers—real applications, etc. Are there choices? Pluses and minuses to these approaches.
REMEMBER: Readers know when content is sponsored. They still place high value on this supplier content as long as it is educational.
---