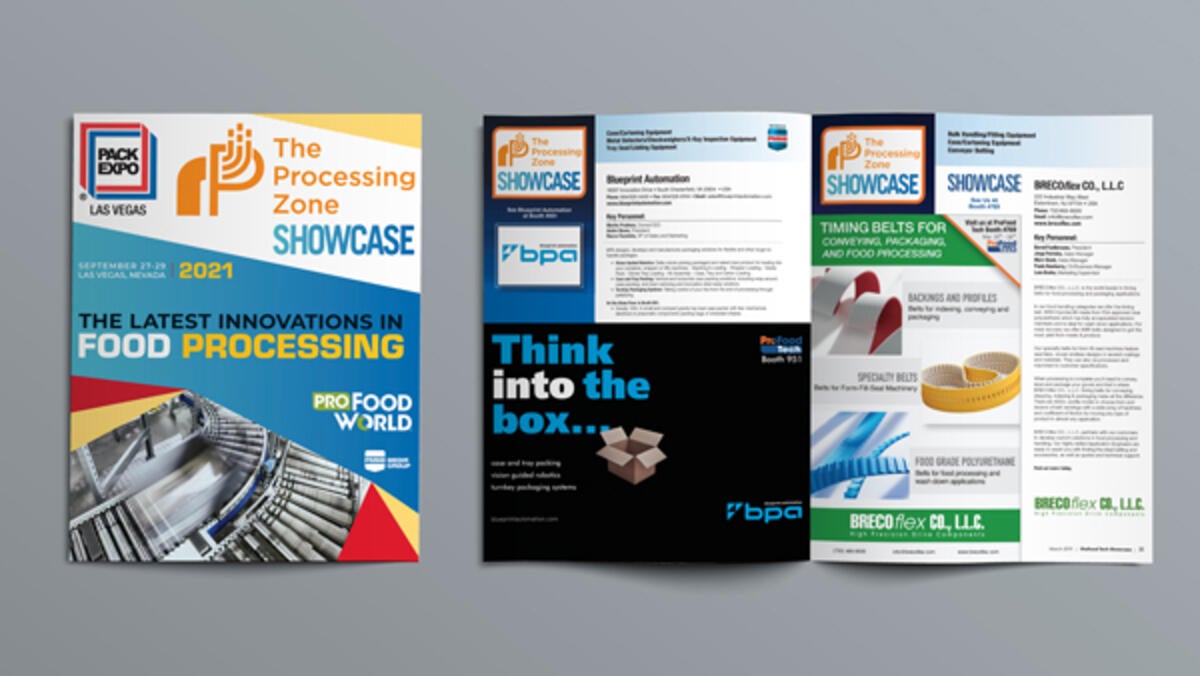 Maximize your PACK EXPO Las Vegas investment by advertising in the official food processing pre-show planner, brought to you by ProFood World, the leading food and beverage processing brand!

The Processing Zone Showcase ("PZ Showcase") offers one or two-page advertising profiles, showcasing food and beverage processing solutions in the new Processing Zone at the 2021 event. This special issue of Profood World will be distributed prior to the show to thousands of brand-owners. Plus, it will include details about educational sessions, keynotes and other exclusive content to help attendees prepare for the show.
Choose a one or two-page unit:
- Two-page unit with your Company Profile and full-page ad on a spread
- One-page unit with your Company Profile and fractional ad on the same page
- One-page unit with your Company Profile plus images and your logo
Benefits of the Processing Zone Showcase include:
15,000 copies mailed to PFW subscribers and pre-registered PELV attendees (to arrive early September)
2,500 bonus distribution at PACK EXPO Las Vegas
Email promotion to PFW food and beverage audience prior to the show
Profoodworld.com Web visitors can access the digital edition of the PZ Showcase year-round for extra value
10% discount for PMMI members
The deadline is July 23, 2021. Contact your ProFood world sales representative or Wendy Sawtell wsawtell@pmmimediagroup.com for more information.
Editorial Submissions
Exhibitors may send 75-100 words of copy describing one new product - along with one supporting high-resolution image - that will be in your booth at PACK EXPO Las Vegas 2021. Copy must include the features, benefits, and food and beverage applications of the featured product. Please e-mail copy and photo to Joyce Fassl, editor, ProFood World at jfassl@pmmimediagroup.com for consideration.*
*Please note: Copy containing general company or booth descriptions will only be considered
from exhibitors that provide food and beverage processing solutions at the show
---