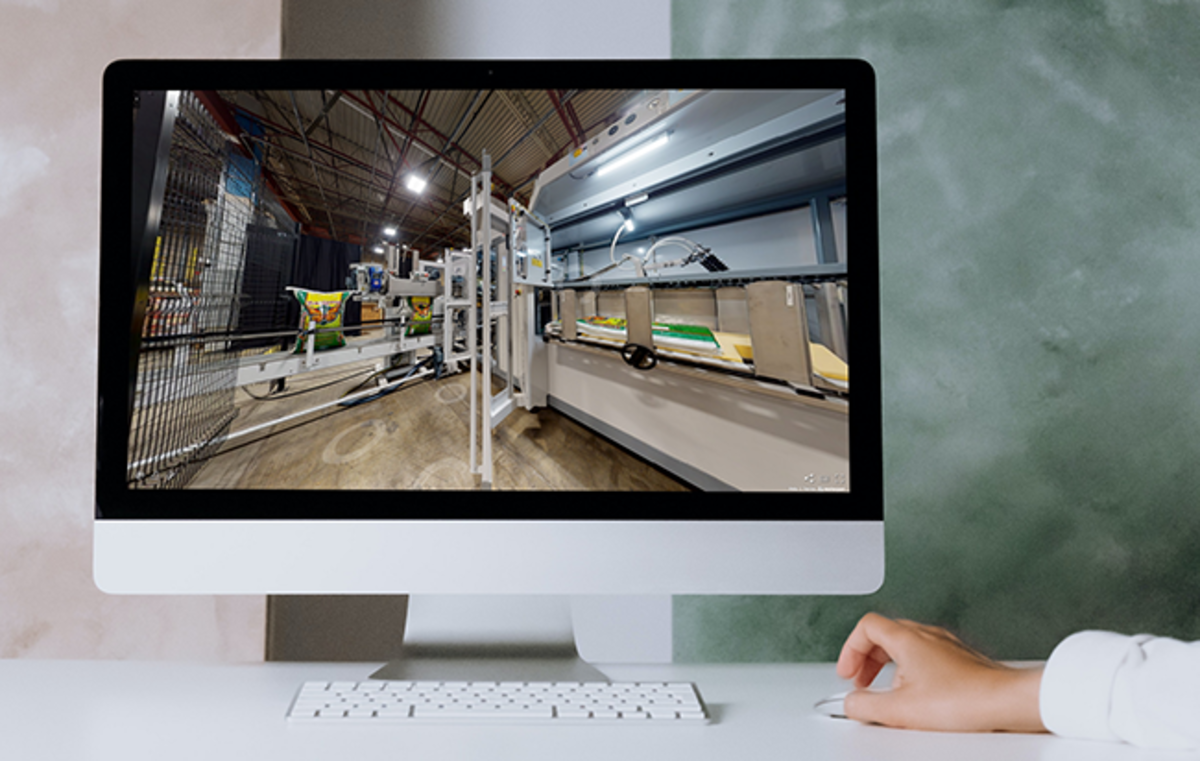 3D Self-Guided Virtual Machine Tours
With PMMI Media Group's 3D Machine Tours, you can now easily give remote prospects the next best experience to being in front of your equipment. With the aid of 3D photography, you can provide potential buyers with detailed views of your equipment like never before, allowing viewers to examine every angle and zoom in on every component. Prospects—from the comfort of their computer—can self-guide and navigate around the entire machine.
The technology offers more than panoramic scans. There's also interactivity, like the ability to drop in tags with captioning, whether it be short videos of equipment running, links to related resources or any desired clips with audio narration. There's even the capability to allow viewers to measure any portion of the machine with a built-in ruler tool.
The best part? The 3D Machine Tour development process is incredibly easy, with PMMI Media Group's 3D photography partner able to conduct the onsite shooting in the U.S., Canada, the United Kingdom and many other countries. Turnaround from shoot date to finish image/tour is typically about a week. Afterward, the hosted tour can be embedded onto your website and used in any email, social or other digital promotions.
Here's how it works:
A photographer will come to your plant pre-show to shoot every angle of your machine.
We will put the finished image/tour together and provide a URL that can be plugged into your exhibitor showroom (PACK EXPO Xpress) in Map Your Show
No work is needed from you other than letting the photographer into your plant and showing them the machine
For a post-show experience, a photographer can shoot your entire booth at PACK EXPO and you can post these "booth tours" to the Map Your Show website after the show and year-round on your own website, promotions, etc.
Featured at PACK EXPO through:
A prominent link to all 3D Machine Tours on the home page of the Map Your Show site
The 3D Machine Tour section will be promoted in show-related communications, including Countdown emails
Use the 3D tour in your own show promotions or year-round:
Embed on your own website
As a sales tool for salespeople to use in virtual demos on virtual calls
If you don't have a machine on the PACK EXPO floor, the 3D tour could be displayed on a monitor in the booth or on a tablet for salespeople to share with attendees in the booth
FAQs
How can I use the tours as part of my promotions and sales process?
You will receive embed code that's suitable to place on your own website as well as a short URL link that can be used in any digital or print promotions. Email, social, event marketing—share your 3D Machine Tour wherever you're wanting to bring your product in front of remote prospects.
3D Machine Tours also provide an ideal tool for salespeople to use whenever travel for on-site demos with the entire buying team isn't possible or you're unable to bring your full equipment line to shows.
How can I keep competitors from viewing such detailed information about my equipment or technologies?
PMMI Media Group's Permission Builder privacy tool (sold separately – search "Permission Builder" for more details) will allow you to easily block competitors for any other undesired viewers from accessing your 3D Machine Tour. Permission Builder allows you to set access and opt-in permissions at a level you are most comfortable with and have full control over the degree of automated or manual approval.
Will I have control over the placement of information tags?
Yes! Tagging is fully self-service. You will place all tagging yourself and have full control over the number and types of information you make available. Common uses of tags include videos of equipment running, audio narration, and links to spec sheets, white papers or other supporting resources. You choose how many tags—or if there will be any—that you would like to feature. You can even decide with a "highlight reel" the order in which you would like the viewer to tour. Tagging takes only a moment—it's as simple as pointing, clicking, adding captioning and then uploading the desired resource or adding a link.
(See a sample with tagging.)
Can 3D Machine Tours be used to promote other products?
Although we use the name "3D Machine Tour," the technology also supports any other situation where you may desire to give prospects a remote view of your work. Other ideal use cases are design-build firms that may want to create a tour of a successful project, room or facility. Or perhaps a materials OEM looking to create a 3D experience of its sample packages. Or an automation supplier seeking to provide 3D viewing of a controls system.
What can I expect from the filming process?
Our partnering photography company will come to your plant to shoot every angle of your machine. No work is needed from you in managing this shoot—we'll simply ask you to review and approve the images. Within a week you will receive the image/tour. Using a self-service editor, you'll easily add any desired tags. Once the image/tour is finalized, we'll provide you with embed code and a short URL, which you'll be able to include on your website and use in any desired promotions.
---