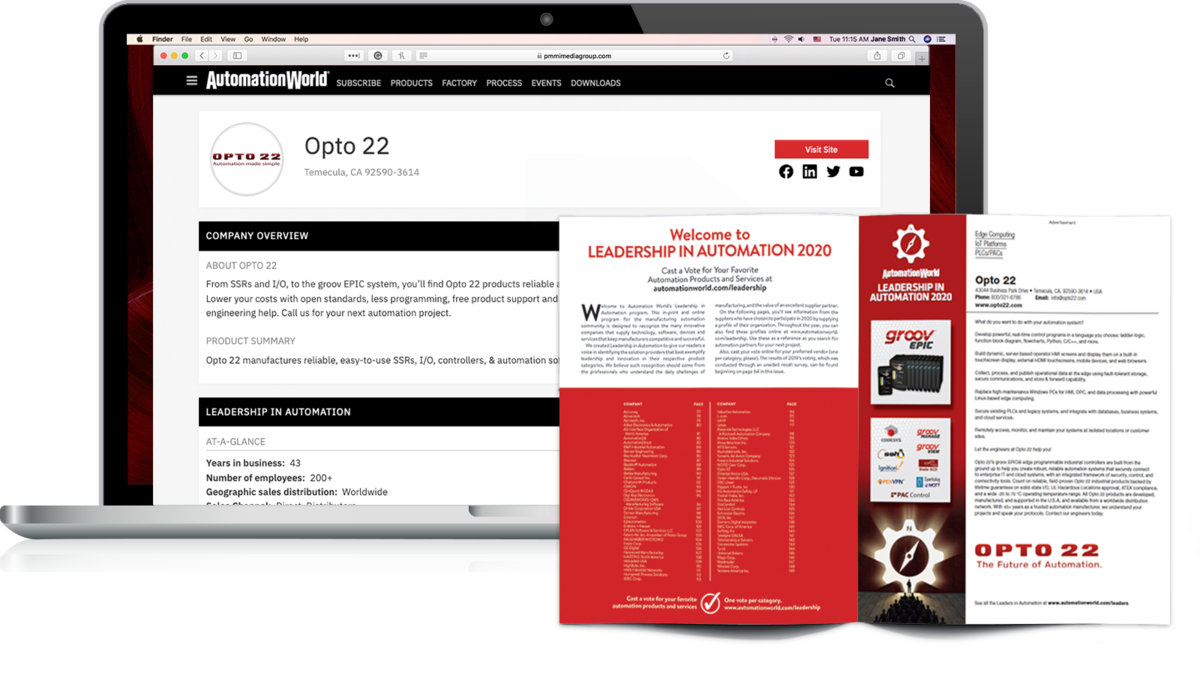 Get prominent year-round exposure via web and print in our signature branding program.
Our Leadership in Automation program kicks off in the January issue of Automation World. All companies running a full page ad (or equivalent in fractionals) in January will receive a free Leadership in Automation Profile Page in the issue, plus year-round exposure on AutomationWorld.com as described below.
Print
Company profile in the January issue. Detailed, full-page profile on your company, including company logo.

A PDF of your profile can be downloaded for your own promotions.
50,000 print magazine circulation
Web
Digital Company Profile on AutomationWorld.com, with your logo, company profile, and content on your company.

AutomationWorld.com receives 64,000+ unique site visits per month

Drive more views of your YouTube videos with YouTube Amplify

This program pulls from your YouTube library, displaying related videos throughout AutomationWorld.com

Home page - Permanent company name link on the AutomationWorld.com.
Pop-up data card displayed prominently on category pages and articles that correspond to your product category. Data card contains your logo, photo of key contact (e.g., CEO or VP/Sales & Marketing), editor-written enticement copy, a link to your profile and a link to your website.
Use of the Leadership in Automation logo on your collateral and website.

Receive a widget including the Leadership in Automation logo and blank space to add your company logo
Voting:
From January through August, we'll invite individuals to vote for their favorite automation supplier, in a variety of categories. As a participant in Leadership in Automation, your company can be one of the candidates for whom automation professionals will vote. Your Profile Page is one more way to raise awareness of your company! (The survey asks automation professionals to type in their company selections with unaided recall.)
At the end of the program year, votes will be tabulated and Leadership in Automation First Team Honorees will be recognized in the January issue of Automation World. As a supplier candidate, you can also encourage your customers and colleagues to vote for your company!
---
SALES REPS SHOULD KEEP THE FOLLOWING IN MIND:
The Automation World Brand Operations Manager will contact you with further instructions.