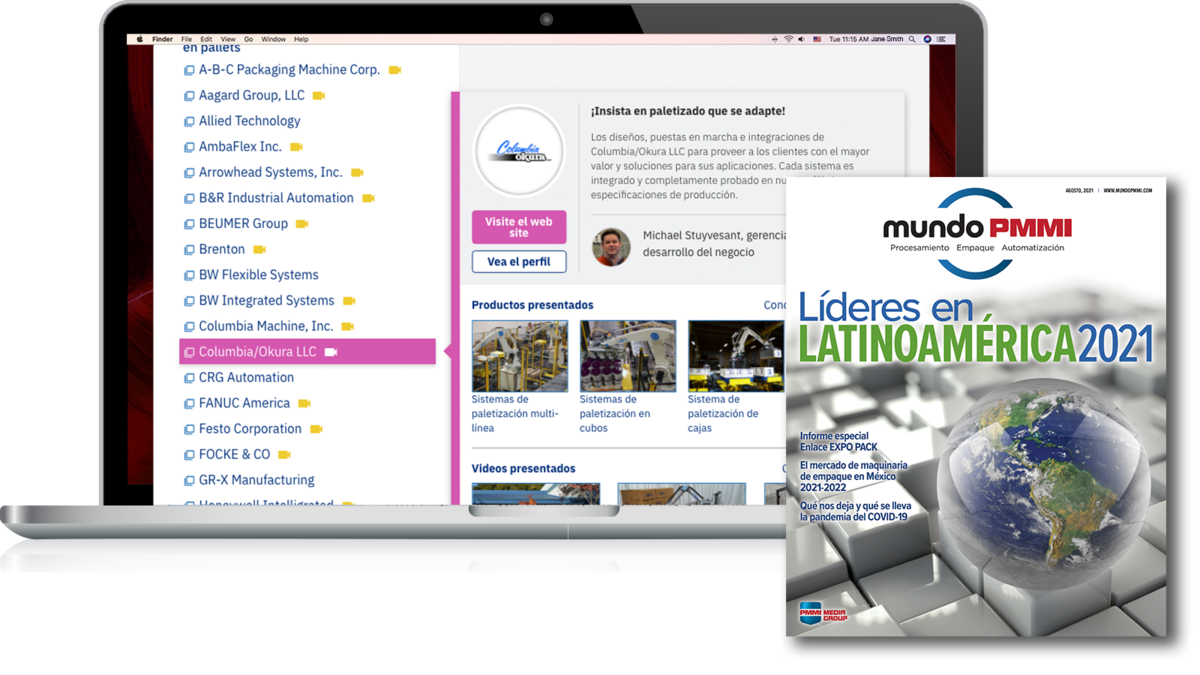 Reach manufacturing professionals in Mexico and Latin America year-round.
LíDERES en Latinoamérica offers suppliers print and digital branding, year-round. Decision-makers can access your company profile on mundopmmi.com and in the inaugural Mundo PMMI Leaders issue.
Comprehensive print and digital exposure include:
• Full-page print profile distributed to 10,500 professionals who package, process and automate in Mexico (only included with full-page ad or package. See sidebar.)
• Bonus distribution at PACK EXPO
• Year-round exposure on mundopmmi.com
• Listed in up to three categories on the Mundo PMMI homepage
• Contextually triggered listings – All articles in your categories will prominently feature your company (and data card) in the call-out box
• Link to your expanded digital company profile from each product category selected
Ad closes July 8
Materials due July 13
There are significant supply chain issues in the paper market, please see our billing policy for an update on terms for print cancellations.
---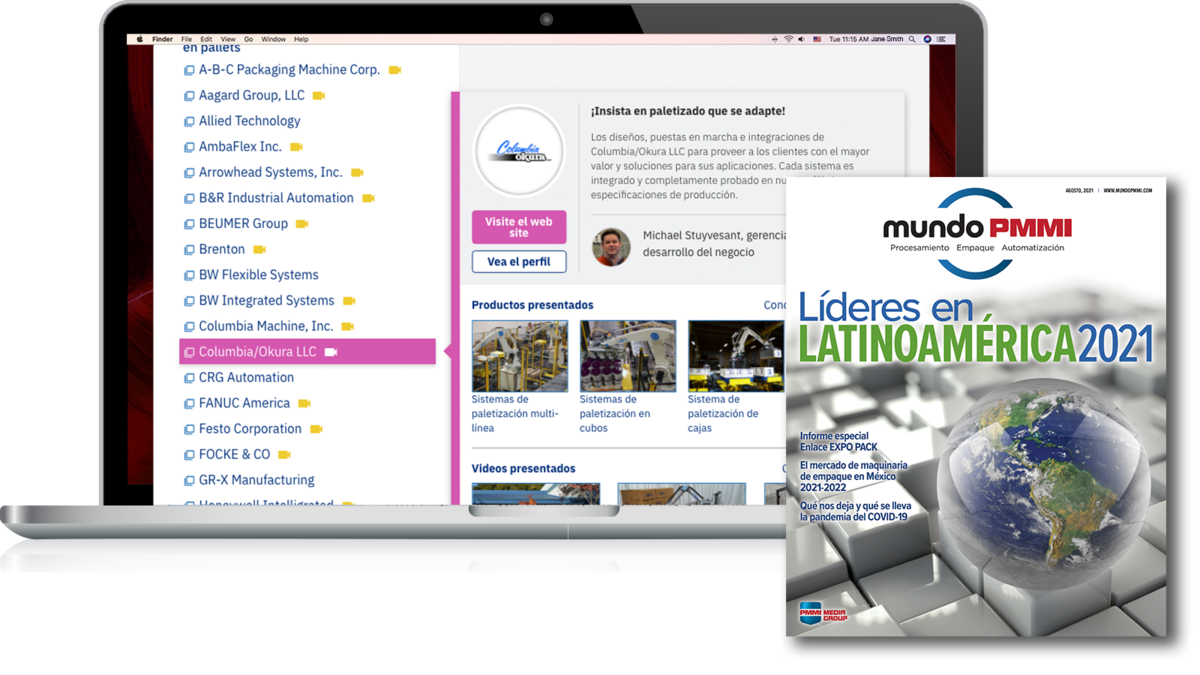 Llegue a los profesionales de la fabricación en México y América Latina durante todo el año.
LÍDERES en Latinoamérica ofrece a sus proveedores desarrollo de marca (branding) impreso y digital durante todo el año. Los tomadores de decisiones pueden acceder al perfil de su empresa en mundopmmi.com y en la edición inaugural de Líderes de Mundo PMMI.
La exposición integral impresa y digital incluye:
Perfil de impresión de página completa distribuido a 10.500 profesionales que empaquetan, procesan y automatizan en México (solo se incluye con el anuncio o paquete de página completa. Ver barra lateral).
Exposición durante todo el año en mundopmmi.com
Incluido en hasta tres categorías en la página de inicio de Mundo PMMI
Listas activadas contextualmente - todos los artículos de sus categorías destacarán su empresa (y su tarjeta de datos) en el cuadro de llamada.
Enlace a su perfil de empresa digital ampliado de cada categoría de producto seleccionada
Categorías (elija hasta tres):
Equipos de Embolsado, Formación de Bolsas, y Envoltura
Encartonado, Multiempaque y Empacado en Cajas
Equipos de Codificación, Etiquetado e Impresión
Controles, Software, y Componentes
Equipos de Conversión y Formado de Empaques
Transporte, Alimentación y Manipulación
Llenado, Tapado y Sellado
Equipos de Inspección y Pruebas
Manejo y Almacenamiento de Material
Materiales, Empaques y Consumibles
Paletizado y Estabilización de Carga
Instalaciones, Infraestructura y Operaciones para Plantas
Equipos de Procesamiento
Servicios Profesionales y Externos
Robótica
Equipo de Empacado en Bandeja, Empaque tipo Estuche y Burbuja
El anuncio cierra el 8 de julio
Entrega de materiales el 13 de julio
---
Ad sizes: (in inches – width by height)

1/2-island ad

bleed: 5.375 x 8.625 trim: 5.125 x 8.375 live area: 4.75 x 8

1/2-horizontal ad

bleed: 9.25 x 5.6875 trim: 9 x 5.4375 live area: 8.5 x 4.9375

Full-page ad

bleed: 9.25 x 11.125 trim: 9 x 10.875 live area: 8.5 x 10.375